An IDC study claims that employees spend up to 30% of a workday searching for necessary information. Consequently, companies' total productivity decreases by 21%. So if you find yourself distracted by the sheer volume of disorganized data, you are not alone.
It makes a lot of sense to create an enterprise content management system that is key to optimizing working processes. But let us be more specific: how will the solution assist you in achieving business goals?
removing dependence on documents and paperwork;
driving enhanced customer service;
mitigating organizational risks.
Listening to our clients over the years, we've realized how basic ECM systems should operate. Regardless of industry, the core functionality set remains unchanged:
saving and storing data securely;
accessing the content wherever you are and whenever you need;
capturing any document type, have it classified and stored automatically;
shifting between the ECM platform and other corporate portals;
reporting on how employees utilize the information within the system.
Top ECM software development benefits
Whether businesses are creating a custom software solution or modernizing an existing one, it should come to the rescue of document-heavy organizations. Additionally, you will grab other ECM advantages along the way.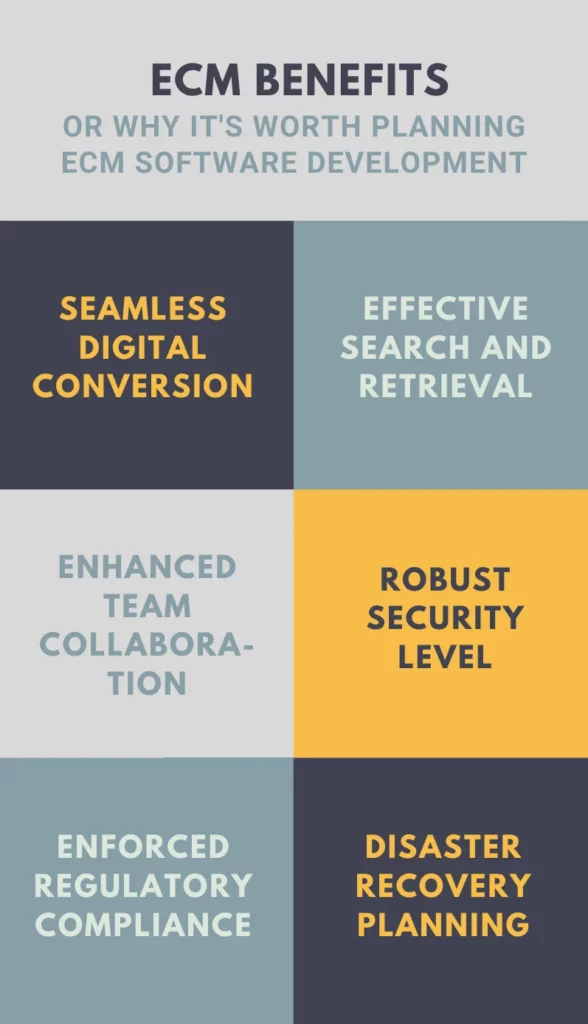 Seamless digital conversion
ECM systems transform traditional documents into digital data that you can manage and share with all stakeholders promptly.
Effective search and retrieval
You are free to use handy search tools to find content using various phrases, keywords, or personal details. Searching for files that match your criteria won't take lots of time.
Enhanced team collaboration
Constant interaction with employees both in or out of the office is a foundation of close-knit teamwork. Web-based enterprise automation software solutions will empower your team with email notifications and file routing.
Robust security level
Thanks to a granular security model, you can track which users have opened or edited files. In such a way, the solution allows customers to control access to information and protect their records.
Enforced regulatory compliance
Established record retention practices assist enterprises in meeting government regulatory mandates. Thus, you don't have to deal with compliance concerns on your own.
Disaster recovery planning
If you store content digitally, neither fire nor theft can be a hazard for data preservation. And a team of experienced developers, for their turn, will make all possible efforts to prevent cyberattacks.
Six steps of ECM solutions implementation
We expect this handy checklist will be helpful during your (hopefully, smooth) implementation process. And we want you to be ready for some changes in your usual workflow — it is an essential step for digital transformation.
Prioritize the core areas. It's better not to sidetrack with challenges that you can address later. Try to postpone solving difficulties that don't have immediate value. Instead, focus on pressing issues first.
Share expected results with every department and listen a lot. If you want a new platform to give your company a new lease on life, listen to all stakeholders' visions and feedback.
Discuss all project details with your service provider. It's hard to create efficient software development for content management without deciding on a certain infrastructure and functionality set. Contact vendors to find out more about development models' pros and cons: cloud, web, or desktop solutions.
Establish policies for using information — who, when, where, etc. Plus, it's worth considering recommended data lifecycles and ways of discarding them.
Perform tests before launching. It's time to choose a user group that can test the system in a real-world environment. Based on the results, tweak the platform or troubleshoot if needed.
Give the system a break-in period. Regular meetings with employees will help you make adjustments promptly. But please remember: implementing any solution needs time.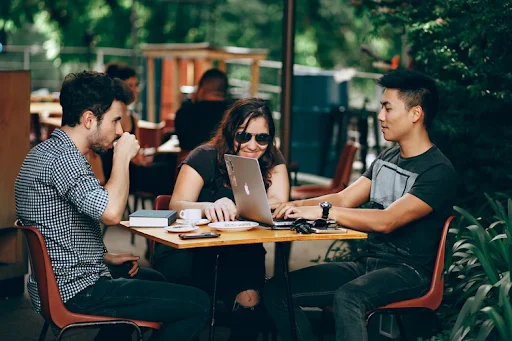 Modern ECM software is not confined to content management only — it encompasses numerous management and organizational instruments. For instance, this kind of platform enables companies to ingest and classify metadata, which is critical nowadays. An incredible boom in the mobile apps and social collaboration tools' popularity as well expand end-users flexibility. So we're thrilled with what the newest ECM systems can do.
We know how to integrate software solutions into a digital ecosystem
PNN Soft has delivered programming products for 20 years, and we hone our skills to put our ideas into reliable corporate portals. We implemented numerous projects based on enterprise content management systems. In these processes, special attention is paid to security.
We are focused on achieving an in-depth understanding of an individual company's goals and concerns. That is why our clients prefer long-term cooperation.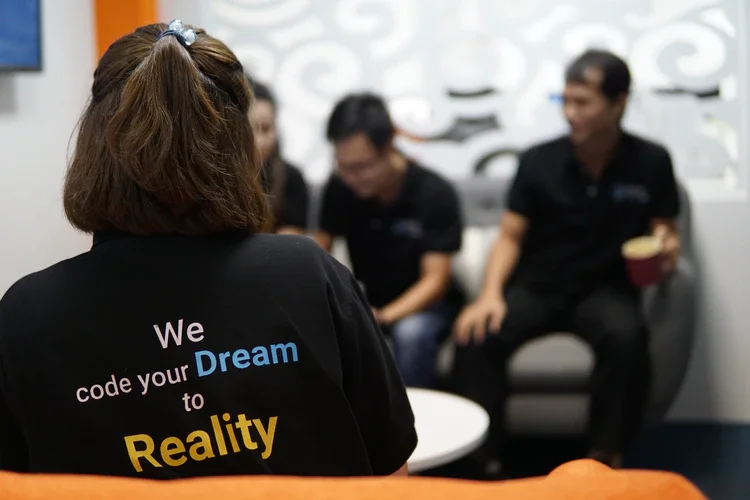 PNN Soft gives priority to Agile, Scrum, and RAD methodologies to interact with clients effectively, satisfy customers' needs and obtain more flexibility. Our passionate Agile teams include software developers, GUI designers, testers, managers, and technical writers.
If you're planning to create an ECM system, contact us by filling in the form below.