Custom software development services encompass many projects, such as software development from scratch, integration with other solutions, digital transformation or IT infrastructure designing. In other words, that is a process of continuous innovation and implementing trendy technologies and frameworks to build up robust solutions. Statistics claim that the global market for business software is expected to surpass $600 Billion by 2025.
Nowadays, a software product comes as no surprise unless the solution is reliable, pocket-friendly, innovative and customer-favourable. However, if a company makes a wrong decision at any development stage, it eventually affects the final result. Hopefully, our short guide will provide you with a detailed analysis of the development process's main steps.
Five Phases of custom software development
First off, it's critical to carry out an in-depth market analysis to identify clients' concerns and demands. After getting into that matter, it's the right time to proceed with the following phases:
Ideation
In the era of innovations emerging rapidly, product managers aim to create unique products. Planning the idea of the solution is an indispensable part of development. Bring your team together, discuss and contribute concepts and create a "roadmap" — that will help you navigate through work stages.
Design
Designing the technical architecture of your platform requires conceptualizing the product. You should share business specifications with a team of developers at that stage: experts will start by creating a workflow, set of techs, diagrams, and DB design. Don't forget to divide huge tasks into actionable modules and take up sprint planning.
Development
After the approval of the ideas about design and functionality, the most critical part begins. Finally, the team of IT experts started coding itself, taking into account SRS and business requirements. It doesn't matter what approach you use, Agile, MVP prototype or Waterfall — paying attention to software requirements is a must. Besides, the MVP product is the prototype that only a few adopters test.
Integration and Testing
When the time comes to testing, the team releases the solution to beta testers and adapts UX instruments to determine how customers will use the product. QA engineers implement various techniques and testing methods to deal with bugs. Testers and QA teams report about test cases promptly to fix all the shortcomings.
Release
Last but not least, here come the Alpha and Beta release phases. Based on the client's responses, the developers' team makes necessary changes. Yet, the project goes into the post-development stage: constant monitoring of the solution and its growth is top-priorities.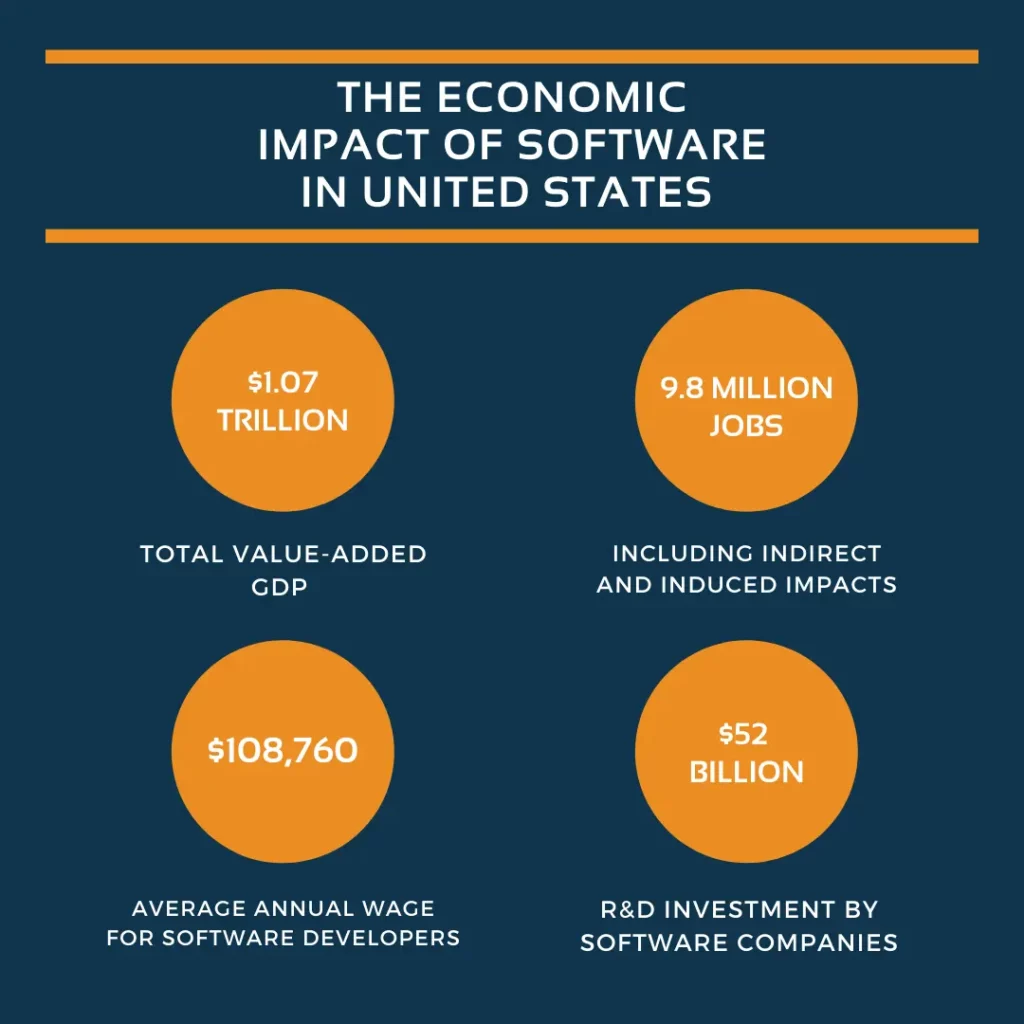 And what impact has software development had on the global market and economy? The economic impact of software is enormous. In the United States alone, the total value-added GDP was $1.07 trillion back in 2014. Software contributed $1.9 trillion to the total US value-added GDP in 2020.
An average software developer salary in the USA is $110,638; meanwhile, in Israel, it's $76,791; in the UK — $68,462; in the Netherlands — $54,025; and in Germany — $60,162.
Speaking about R&D Investment by Software Companies, we want to mention that data was $52 Billion for the US market in 2014. While Amazon ranked as the leading R&D spender in 2020, investing a massive $42.7bn — a figure 18.95% higher than a year earlier for the globe.
Does your company need custom software development?
Software development is not limited to several specialized positions or career paths software engineers can follow. Indeed, developers may pursue job opportunities in cybersecurity, software integration, database administration, APIs or website design.
A multitude of industries takes advantage of software solutions. In retail, for instance, point of sales, inventory management, and payment processing are primary tools that optimize workflow and increase client satisfaction. Businesses use them for computer-aided design (CAD) or enterprise resource planning systems (ERP). In the healthcare field, custom information systems assist companies in research, diagnosis, and medical imaging. Speaking about business management, we cannot fail to mention software that is particularly suitable for solving time-bound work tasks.
Without real-time transportation tracking, transportation services can't get a competitive advantage. One of the most notable examples of such platforms is Uber API, which comprises a comprehensive client database upon booking.
Unleash the potential of custom software development services with PNN Soft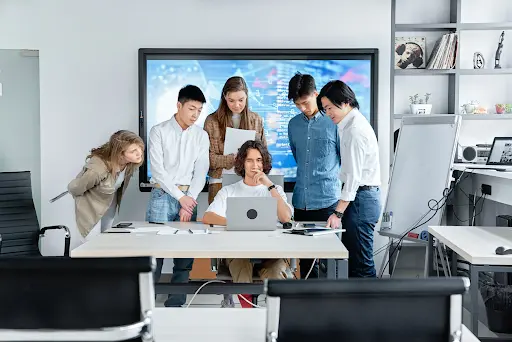 PNN Soft has been delivering programming products for 20 years, and we hone our skills to put our ideas into reliable services. We created a wide variety of complex software for Windows/macOS X. We pay special attention to security in this process.
We are focused on achieving an in-depth understanding of individual companies' goals and needs. That is why our clients prefer long-term cooperation.
PNN Soft prioritizes Agile, Scrum, and RAD methodologies to communicate with clients effectively, satisfy customers' expectations and obtain more flexibility. Our Agile experts include software developers, GUI designers, testers, technical writers, and managers.
If you are planning custom software development, fill in the form below.