Artificial intelligence development is an instrument for the improvement of any sphere of human activity. Therefore, healthcare isn't an exception to the rule. Machine learning and AI are in the trenches nowadays. This technology's solution is on-demand for tasks of diagnostic, treatment, prognosis, and surgical procedures.
The development of applications, software, and platforms for all these actions in the field are complicated, multi-level, and complex services that can be provided by highly experienced specialists and IT companies today.
Where is it can be used? There is the most spread least, as follows: robotic-hands assessment, virtual nursing, administrative organizing, fraud detection, dosage pharmacy control, connected machines, clinical participant identifier, early diagnosis, automated image diagnoses, and cybersecurity.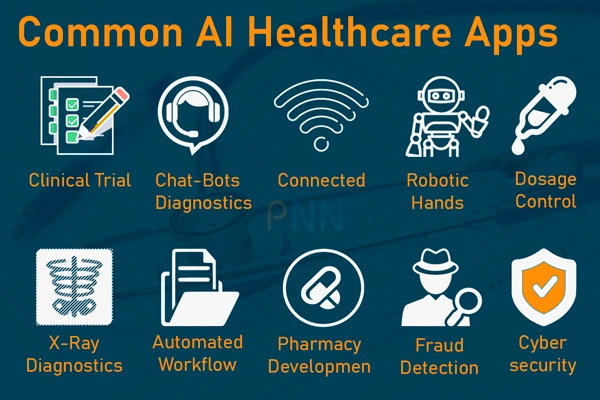 Approaches For AI Software Development Services
As you can see, there are a lot of directions that you can follow when investing in Augmented Reality for the healthcare industry. PNN Soft specialist qualified enough to create software or programming product with AI support.
Software products with artificial intelligence are based on both web platforms and mobile and desktop applications. The question, "What are their difference and root aspects" – we will discuss later. However, all of them have an advantage – with the growth of the healthcare market, programs and applications help save on costs that reach billions of dollars in the area.
AI development of platforms for clinical trials. The software aims to collect data, analyze & rank it. Clinical trials are characterized by a huge sample of patients who belong to different groups. For qualitative research, it is important to take into account the individual indicators of each. Machine learning and Artificial Intelligence allow the program to perform high-quality work with data and significantly simplify the tasks of specialists. The advantage is to minimize faults like the "human factor" and save time as well as money. It is important to note that clinical trials can be conducted for years or even decades. In this case, it is important to keep in mind that programs designed for this area should receive stable shadow support and updates.
AI engineering is a way to detect hidden chronic diseases. Thus, the technology shows itself well in the field of early diagnosis. Such applications can be adapted for doctors and patients independently. Naturally, the content features of such programs differ, although the app's runs are on the same principle. As a rule, using machine learning, a program based on the results of surveys and collecting data about heart rate, pulse, and sleep, can eventually turn off health disorders.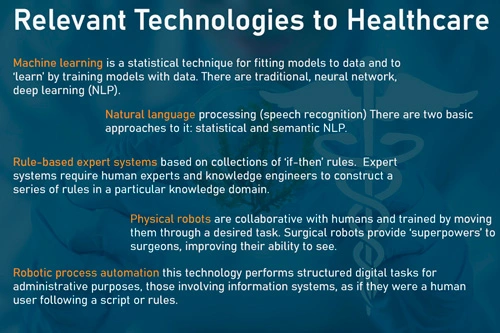 There is a cloud-based clinical decision support platform that helps clinics indicate treatment at the point of care. Desktop healthcare apps also need to have a comprehensive understanding of a patient's pharmacology and treatment.
A task to create AI software for workflow automation and documentation is a common service. Naturally, it is applicable in any field and the functionality changes depending on the scope of the application. However, such programs allow you to keep records of patients and their data, organize the workflow of medical staff, etc. Some systems even keep records of the processing, for instance, to prevent the fatigue of a doctor.
AI Development Advantages for Your Business
The difference between machine learning and artificial intelligence is that machine learning is a direction that makes AI function. As a rule, the project is complex and requires a lot of stable recourses, professional developers, and time for creation. Also, such a scalable and interactive process needs money. Be sure and attentive when you choose the field of medicine where you want the app to be developed. The best decision is to hire a dedicated development team for AI engineering.
Conclude that the disadvantages are the time for development, the AI cost, and the complicity of the task.
What about the advantages of Artificial Intelligence? There are a lot of them, and they are definitely worth the cost.
Money and Time. Saving time that med workers spend on filling out documentation, scheduling, and solving administrative issues is expensive. Reducing this kind of load on the staff will increase its efficiency. All aspects below, somehow, will save these two important things too.
Simplification. Implementation of the AI development service is a tool that leads to the removal of part of the load from the staff of clinics. For example, the software for robotic arms that change the way we think about surgery.
Substitution. In particular, during the development of new drugs and conducting clinical trials. There are already examples of platforms that use AI to model disease and the potential response of the body to a drug.
Reducing errors. When diagnosing X-ray images, the trained system makes a faster forecast. During diagnostics, for example, a chatbot listens to a patient's symptoms and health problems and then directs them to the correct doctor based on their diagnosis. Due to the speed of the AI platform, the diagnosis of diseases is possible at the earliest stages.
For example, doctors use microscopes with improved AI to analyze blood samples and quickly identify bacteria.
Artificial Intelligence Software Development at PNN Soft
AI applications can be very different and differ in their goals, areas of application, tasks, technologies used to achieve these goals, and so on. When creating applications with artificial intelligence, many factors and nuances are important to consider for proper investment and effective results.
Java, Python, Lisp, Prolog, and C++ are major AI programming languages that can satisfy needs. Of course, technologies and languages may change slightly depending on the goals being pursued. IT projects that require machine learning, speech recognition, and data analysis (photos, text, and videos) are very difficult to implement. You should be particularly careful when hiring a development team.
PNN Soft specialists are highly qualified and have the necessary skills and knowledge to develop a desktop application or AI platform. To order the development of an AI application, fill out the form below. Our specialists will contact you and provide advice on your question.