Less than 10 years ago, you might have read the narration in the science fiction genre, where people used to manage all around them with one digital device. Today it is real; that's awesome! With one smartphone, you are able to control all like a car, TV, audio system, alarm system and even refrigerator. Therefore, setting back the discussion on the idea of robots will conquer the world, let's find out how it really works. And the first to manage that, not everyone can do it. "Smart Development" is the task for IoT development companies.
BLE Connection is the key to being in touch with IoT technologies
There are two ways of wireless connection to other devices via the smartphone, Bluetooth & Wi-Fi. It is interesting to note that wifi is used to think of as better than a BLE connection. However, it isn't always like that. Public wifi isn't safe enough and can be really low power. Low speed is a problem for private Wi-Fi, too, especially when a lot of devices are using it.
That is grounds for Bluetooth being in use now, which is available everywhere. The development of the technology, later called Bluetooth, began in 1989 at Ericsson. As for today, all mobile and smartphones support BT connection, and developing IoT applications requires it by default. What is more, Bluetooth saves battery energy.
Connected appliances are around in specific spheres as well as in daily life. In the development of Bluetooth applications, there are a number of features, but the following protocols are mandatory:
LMP (Link Management Protocol), connection setup and stability.
SDP (Service Discovery Protocol) helps determine the required service type or BT profile. Simply put, it allows you to understand what actions the connected device performs.
L2CAP (Logical Link Control and Adaptation Protocol) – designed for working with protocols of different levels, collecting and sending data packets.
Be Aware of Smart Development for Smart House
The smart home system originated as the automation of centralized residential home management systems. It has developed into the focal point of your personal apartment (even if it is very small), where you can control almost every object in the room, in other words, set up automation of all devices in the house. Some smart home services are not available to everyone. However, controlling lighting or heating via a smartphone in an apartment is a relatively common solution.
IoT software development companies provide services for developing applications for managing a smart home or even complex systems. On both sides (the businessman with the start-up idea and those who rally the idea), software development for a smart home is profitable. Special demand is noticeable for Android and IOS developers.
However, there are only two types of applications single-tasking and multitasking. IoT apps development covers a number of tasks. The final result should include a number of main functions:
Simple registration and creating a profile; Access configuration – one or more devices connection;
Network choice;
Guide how to use the app;
Settings of apps;
The setting of possible connected devices;
Clustering for multitasking accounts – by rooms, by the purpose of use, etc.;
Push notification;
High level of security.
The issue of data security is always relevant. When developing IoT applications, you must encrypt the transmission data and configure the user and device authentication process. In addition, IoT needs constant support and updating of the functionality of the open library.
How Could Clever Robots Change Our Daily Life and Business?
The root of the use of the Internet of Things is to simplify the process. IoT Android app or iOS is another tool in business to help reduce costs and increase profits. Its main contrast is versatility. The Internet of Things can be adapted to a large production sector (agriculture, farming, healthcare) and for a relatively narrow niche like fashion and style.
Above, you have read about smart houses; well, have you ever heard about Smart Cities? This is a great field for business activity. Many systems in the same city are automated. There are already packing sensors, information stands, and trash bins.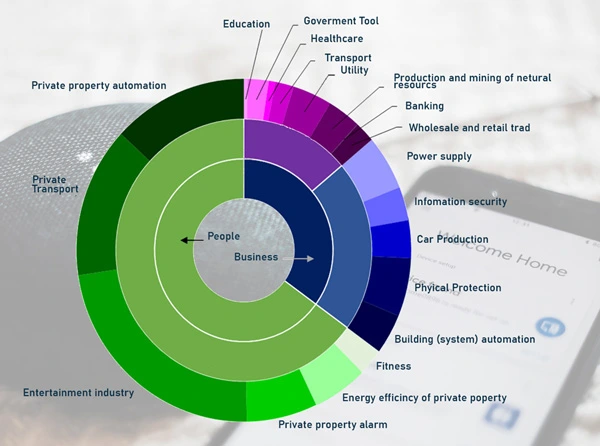 The picture shows 20 spheres for IoT usage, and that is half of the way. The offer of plug-in devices and smart applications will soon reach dozens of directions for each existing area and will certainly penetrate into industries where it has not yet been widely used: military technology, space, fully autonomous vehicle control, etc.
Obviously, by choosing your niche, you can start successfully promoting the Internet of Things app.
PNN Soft is Smart Enough to…
Develop IoT applications and meet your business needs – what we are doing. PNN Tech has 20 years of experience, and we realized Android, iOS, and Windows apps and multifunctional scaled software for industrial enterprises. Also, our developers completed several IoT apps, and we provide development services for multitasking applications with support for wifi and Bluetooth connections to other devices.
Do you want to order the development of applications iot for Android, iOS? Fill out the order form below, and we will contact you for consultation and further cooperation.