PNN Soft is an expert in software and application development. Our specialists realized over 1000 projects. We implemented desktop and mobile apps/software for various industries and business areas. Additionally, our specialists enough qualified to boult digital products for the real estate field.
Briefly, people used friends and newspapers as information sources to find a place to live. Now, over 50% of buyers use the Internet. Buyers now have apps that let them search by location and neighbourhoods. They save time and money, especially if they are looking for accommodation to move from another city/country, using 3D tours or video reviews. Therefore, the real estate sector has been radically changed.
How to create a real estate app successfully
It is impossible to imagine a real estate company that doesn't have its digital product (website/apps) or isn't represented on one of the Internet platforms. The real estate Agency without a website has very low competitive chances. The typical buyer uses a mobile device to search for properties online. Only 5% of firms do not have a website, compared to 93% who do. Therefore, the product approaches different users, as follows: buyers, real estate agencies, and third parties or is combined for all of them.
To create a real estate app and implement it successfully, you should think about the features, goals, and opportunities that the real estate app or website provides. As an example, here are the main ones.
Monitoring of the market, price tags in the country/region/district, or monitoring of builders;
Rental of premises for business or housing;
Viewing real estate objects using an interactive map, the function of 3D tours of the object, the number of high-quality images;
Efficiency. Instant offer and notification of the appearance of a property/potential buyer;
Filtering real estate search requirements;
Maintaining documentation with partners and clients;
Setup of reporting systems;
The presence of internal tools for tracking and forecast revenue;
Verification of information, availability of a General register for monitoring market participants;
Configuring the security system of the website/apps;
Direct delivery of services and user support.
Consequently, to develop a real estate web application or desktop/mobile app, you need to hire a professional programmer. This kind of business is better to build on cloud platforms because they provide the ability to store large amounts of information and support dynamic data updates. To store information, images, and visual 3D implementations of objects, you need a non-limited memory on the server. Finally, much depends on the type of product and its purpose.
Real Estate Website
Real Estate companies all over the world develop mobile apps; nevertheless, having a web platform is still important. The main question is how to build a web platform and what it should include to be relevant. What is more, buying such an expensive thing as a flat or house isn't purchasing clothes on Instagram. Potential customers and sellers check all info about the realtor company and brokers with whom they are going to deal. Hence, the web platform must be clear and informative. To make a strong first impression, a real estate web platform should work flawlessly and be handy for agents, brokers, home sellers, and home buyers. PNN Soft, as a web development company, highlights the main elements of a successful website in this area. The platform should have several core features, like:
Registration and verification – all market participants must confirm their identity. The buyer can get the necessary information about the agency's certifications, experience, etc. Users must verify e-mail or social networks;
Profiles – the features depend on those who were registered: a buyer, seller, or third participant;
Search Filters – it is obvious that the market supply is wide. Housebuyers must have an opportunity to filter offers by region, district, price, high-rise buildings, distance from transport hubs, view, etc.;
Maps – therefore, the map must not only include a real estate offer but also provide info about the nearest objects, like shops, gyms, schools, etc.;
Content – photo, video, local information;
3D tours – a modern tool that has changed the reality of the real estate market. Users can view offers without even having to travel;
Messaging – quickly communicate with an Agency, broker, seller, or buyer (depending on the purpose of the site). Make sure that your platform provides an integrated messenger.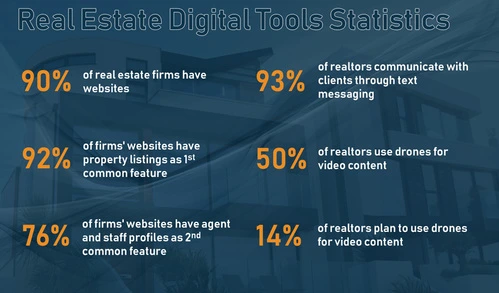 To summarise, it's quite a challenge to satisfy all market groups. Also, the site can provide any home improvement facilities for a superior level of relevance. But pay attention, the more it is complicated, the higher will be the price of website development. If you want to update the functionality of the website or develop the user interface, you can hire a dedicated team at the web design and development company PNN Soft.
Real Estate App for Mobile or Desktop
PNN Soft, as an app developer company, monitors the market and knows what features a real estate mobile app should have. Quite often, real estate agencies order the development of a custom desktop application or an IOS/Android app. In this case, the digital product can be intended both for the organization of the offer and sale to the consumer, used directly by industry workers.
One of the main tasks of a real estate app is to provide a user with the right information available on the market so s/he does not miss a valuable offer or customer. The realtors' mobile apps help them to manage customer relationships or CRM, schedule planning, customizable reports, and control marketing programs. The mobile app development for the real estate industry helps realtors with lead management. Programmers of different software companies provide up-to-date solutions for mobile app development, both Android and iOS. Realtor – a dynamic profession, and the availability of resources to solve the problems of market analysis, price category, registration of offers and constant contact with potential customers allows you to optimize your work incredibly. We recently wrote about how much it costs to develop a dedicated mobile application. In addition, there are mobile applications that are designed exclusively for searching for purchase/rent of housing. In theory, under standard conditions, it will be cheaper to develop it since the application's functionality is simpler.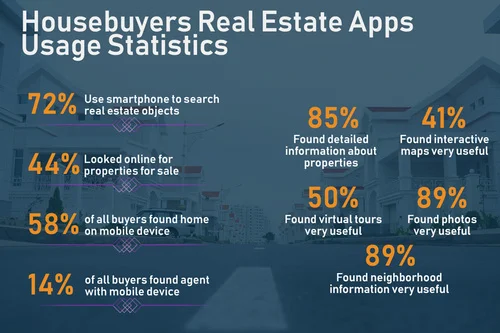 The desktop application development frequently is intended for the implementation of resources for organizing the work of realtors, notaries, brokers and builders. For a buyer or renter, there is no need to install housing search apps on a PC, or it is simply not cost-effective. Often, desktop applications contain commercial tools, reporting systems, analytical tools, etc. It is very important to create a working architecture and provide a high-quality UX/UI design that will not slow down the work of professionals.
Mobile and desktop development tools
To fulfil the needs in the field of the real estate market, the developers face different issues of feature realization. Let's return to the question about the development of the web platform. The task of the programmer is to make the site understandable for all users, consider all the necessary options, and at the same time ensure its fast loading and response.
There are several steps to reach that aim; some of them are speeding up load times and integrating IDX listing feeds and CRM systems. PNN Soft is experienced in CRM and ERP services; to find out more about it, look at our portfolio.
The audience of real estate applications is quite extensive, including a variety of people. Therefore, it is important to use a multi-platform approach where you will need Java to develop real estate applications for Android and Swift for the iOS version.
Desktop Application Development Services for macOS X and Windows platforms are popular services. Based on 20 years of experience, we provide a variety of business and service applications, promotional applications for advertising products or services, and applications for the real estate industry.
Also, we use the best tools for virtual tour realization. PNN Soft is a leading augmented & virtual reality development company. Our specialists are sufficiently experienced in advanced AR/VR technologies and implement realistic 3D models, high-resolution video, and other complicated graphical customized projects.
Why should you hire dedicated developers in Ukraine?
PNN Soft – is a full stack Development Company that tackles projects of different scales and complexity. You discuss the technical and business logic issues of a digital product at the earliest stages of development. In a partnership with PNN Soft, you get a wide range of services and software solutions. Our programmers are ready to develop:
Customize Real Estate App Solution;
Property Booking Solutions;
Property Renting Solutions;
Property Management Apps;
Property Search Solutions;
Lead Management Solutions;
Real Estate CRM Solutions;
App Maintenance and Support, etc.