Nowadays, the development of digital technologies is an integral part of modern progress. Their innovations have influenced every sphere of life activity. Among the main trends, healthcare application development should be highlighted. This has allowed medical services and applications to expand in ways we could not have imagined twenty years ago. One of the first programs allowed reading health indicators and keeping records.
Today, under the control of doctors, modern technologies provide the opportunity to perform ultra-precise operations or print parts of organs. The sphere of artificial intelligence can detect the slightest changes in medical images, and prevent the disease at the earliest clinical stages. Consequently, the IT sphere is an integral part of modern progress, which brings active development in the field of healthcare. This article will focus on the concept, functions, and advantages required for high-performance desktop and mobile apps for the current sphere.
What is a healthcare information technology (HIT)?
Information Technology is actively involved in almost all industries. Starting from the transport industry, and up to manufacturing and education. The healthcare sector makes adjustments annually, thereby modernising its treatment methods. Custom healthcare software solutions are rapidly transforming the industry. For example, EHR (e-health records) systems store patients' data: medical and family history, laboratory and other test results, prescribed medications history, and more. According to preliminary estimates of experts, the information technology market in healthcare may grow significantly by 2024.
Software engineering in healthcare contributes to the improvement of the work process, thereby increasing efficiency. Namely, it is better to take care of patients and improve the doctor's communication with patients. As a rule, HIT refers to the safe use of technology, which allows you to safely manage information related to the health of patients. In addition to solutions aimed at simplifying the management and management of patient records, there are a number of common and familiar solutions. Among their numbers are mobile heart rate monitoring applications or blood sugar monitoring. Information technology has firmly established its place in this field, paving the way for more accurate systems.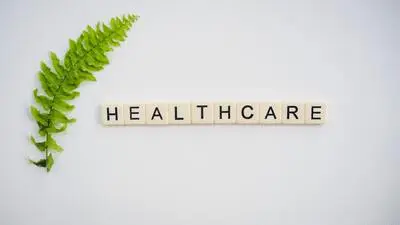 What are the main benefits of IT Usage in healthcare?
The impact of information technology on healthcare helps to maintain confidentiality while improving patient care. HIT is a solution not only for patients but also for medical professionals.
Secure access to patient's medical records
Patient data collection is an important aspect of the healthcare field. Medical data is necessary for doctors to analyse the patient's situation and illness. Therefore, digitalization is so significant in this area. Quick access to data in such situations plays a key role in emergencies. The company developer pays special attention to the safety and security of data from third parties.
Improved patient care
The use of technology can increase patient engagement. The use of electronic systems and devices to monitor patients' health is the way to more qualified care. The ability to obtain data in the shortest possible time optimizes the work of doctors and reduces the time for diagnosis of patients. The step-by-step introduction of digital solutions into invasive procedures reduces the error factor caused by the human factor and improves the work of specialists.
Telemedicine
Healthcare application development services are often aimed at solving patient care problems. Telemedicine involves online consultation and recording with physicians through mobile apps and web applications.
Simplified diagnostics and analytics
Create software using AI and machine learning to analyse medical images. In addition to the processes directly related to medicine, the software allows to generate statistics on morbidity in regions and the health situation in general.
In the complex, all software solutions for health care optimize the work of hospital departments and doctors, increase patient satisfaction and improve data processing.
Healthcare Software Development in 2023
Experienced business analysts, engineers, and developers of PNN Soft are engaged in the development and creation of applications for healthcare. Currently, the development of healthcare software meets the needs of doctors, patients, investors, insurance agents and the government. Furthermore, we do not exclude the reconciliation of AR/VR technologies, and entire software systems. For example, there is a list of tasks that can be implemented using one of the digital products listed above:
Optimization of the workflow of medical operations;
Remote client consultation;
Remote but effective patient care;
Electronic type of records;
Constant monitoring of the health status of patients;
Data structuring;
Analysis of medical images.
If we consider examples of advanced information technologies in healthcare, then artificial intelligence is one of the most promising fields. Its advanced capabilities allow you to work efficiently and reliably in any field. Artificial intelligence analyses images with average accuracy.
Returning to the tasks of health monitoring, trackers that read our pulse, sleep phases, and so on are no longer a novelty. Now, we wear wearable devices daily that help us track our health. However, they do not lose their relevance and continue to develop. Consequently, there is a growing demand for software development for the Internet of Things. Such devices help to monitor breathing, mobility, nutrition, and the amount of sugar or vitamin D in the blood and even carry out portable vision diagnostics.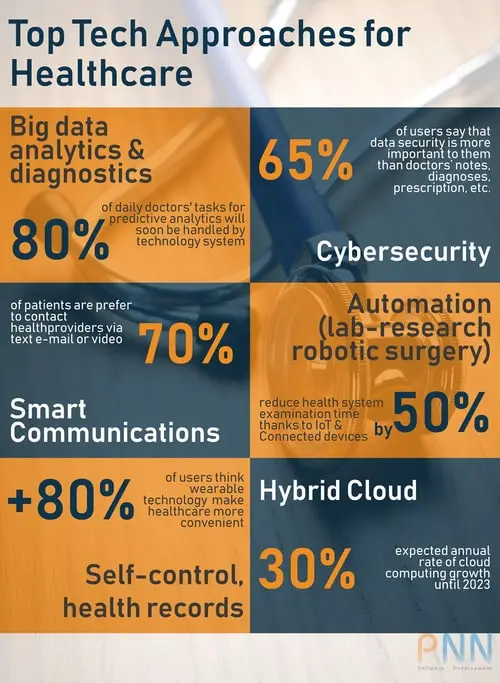 PNN Soft experienced healthcare software developer
The main approach to desktop application development is to optimize each stage of the industry. Therefore, PNN Soft company carefully analyses the market, creating new and high-quality solutions for any industry, including health. PNN Soft developers have a unique experience of creating new products. The company has developed an application for analysing and correcting user behaviour in the field of psychology. This application is designed to analyse and perform corrective actions for users with rhythm disorders. The program was created for Windows using the technology .NET Framework. PNN Soft is actively developing, and introducing new tools.
In particular, we created solutions for healthcare:
RhythmGO is an application for psychodiagnostic in medical institutions;
Sports Equipment Tracker is an Android app. It tracks the health, records, and performance analysis of your body during your workout;
Health Diary — allows you to record and store the parameters of your body and is designed to help avoid or prevent various chronic diseases;
The E-doctor web portal is a Virtual clinic for online medical consultations that helps its users effectively monitor their health;
The Imed – Solution web resource implies an information guide on medicines and pharmaceutical products;
Healthcare in IT is an excellent solution for 2023, as it will provide more and more opportunities for both doctors, patients, and development companies. PNN Soft offers professional services in creating software for hospitals, and developing custom outsourcing applications for Mac OS X and Windows platforms. Having been creating effective solutions for 20 years, our company has extensive experience in developing user-friendly desktop software solutions and custom client-server applications for specific business needs.