The modern realities are such that we couldn't imagine a successful business without digitalized processes, and augmented reality is one of the up-to-date tools for effective business promotion. AR technology has been gaining popularity for the last couple of years, and now it penetrates industrial manufacturing and everyday life. The purpose of this article is to answer the issue of how augmented reality will affect your business.
Business customers and manufacturers need to cognizant of how AR technology can be more efficient, faster, better and more profitable, and why AR is the most optimal alternative to traditional consumer engagement methods.
Development of augmented reality for business – is an Important element in the equation of success
According to the Perkins Coie research-report, AR/VR/XR/MR will be as common as mobile devices and smartphones in the consumer market in the next 5 years. North America has the most advanced investment and technological opportunities for AR. More than 62% of investors prefer this region in the context of the theme, 21% confidently invest in AR technologies in the European market and 13% – for the Asia-Pacific region.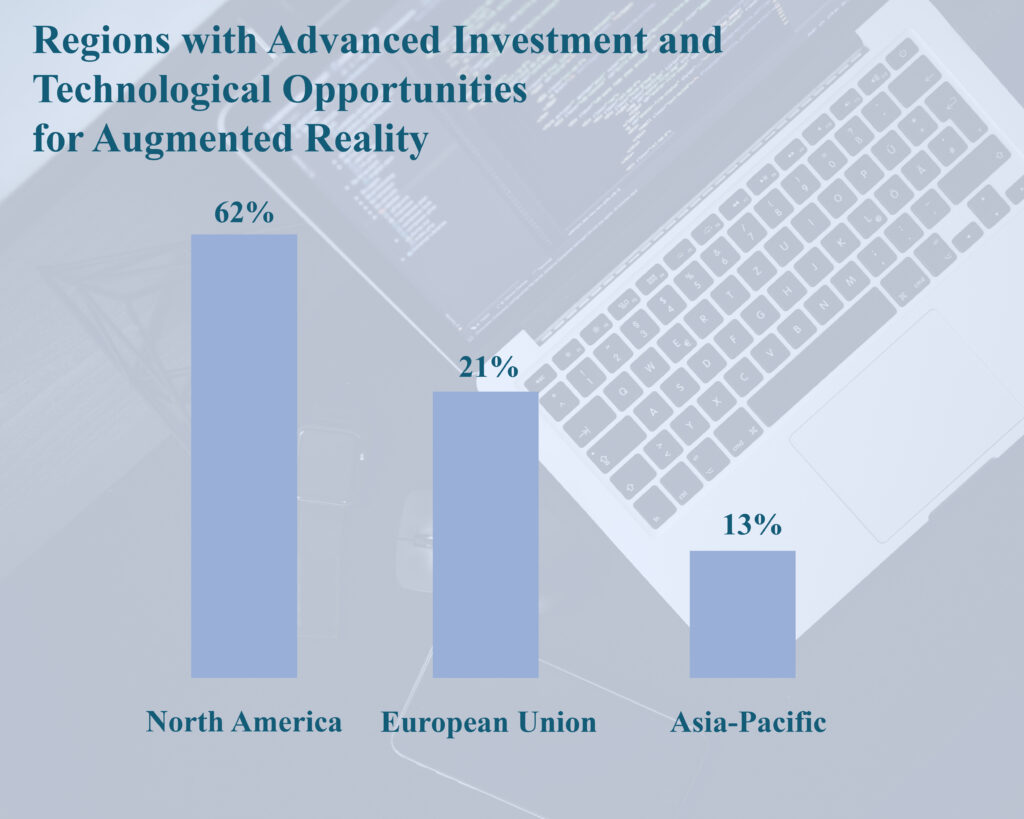 The range of fields where augmented reality is used comes wider and includes:
gaming and video games, social networks, film and video entertainment, advertising and marketing, healthcare, education, workforce management, military and defense, manufacturing and automotive, live events (concerts), retail and others.
Perhaps it is not surprising that gaming continues to be the most promising direction. However, the overall development of technology has spurred the growth of healthcare, medical devices, and education. Private businesses and government agencies in these industries are increasingly turning to IT companies for AR app development service. The exciting growth of technology continues, and every year investment contributions beat last year's records.
How should any business industry implement augmented reality app development to reach effort?
The new type of user experience and absorption of content is developed on augmented reality techs, which over the recent years become ubiquitous. Even today, this tool has reached about 1 billion users, and 37% of the world population has access to AR via Facebook and Snapchat. What is more, 46% of Americans have used the augmented reality app and are aware of it.
On the contrary of daily-use, the huge manufacturers and concerns of mechanic engineering are using AR applications and software. For instance, Hyundai, Audi – automobile companies – are implementing augmented reality at the stage of modelling, production, and testing. Besides, the Volkswagen Group is testing its commercial vehicles with augmented reality repair centres. Moreover, AR is effective for stuff training, skilling and education.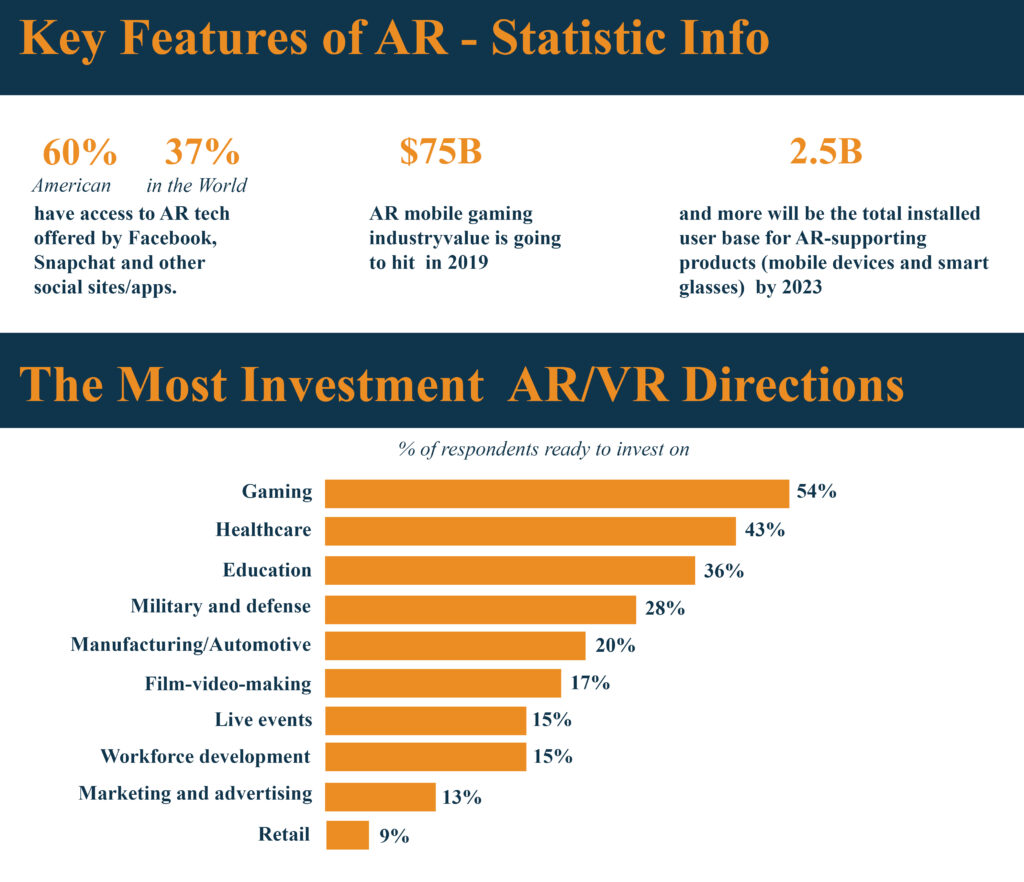 The recent growth of the AR market can be attributed to solutions that allow the creation of effective instruments for customers' attraction. Augmented reality apps make users' daily tasks available and increase user experience. There are stream AR apps on the smartphone for the apartment's design, AR mirrors for shopping and dressing, and complicated augmented reality applications for soldiers training or better driving experience all over the world. What is more, 48% of consumers would be more likely to shop at a retailer that uses AR.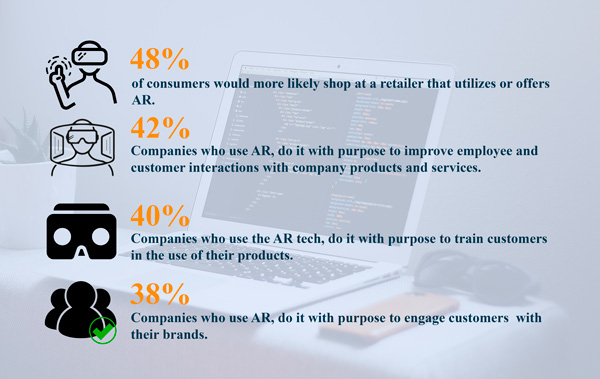 AR technologies are used not only for useful purposes but also for entertainment. Modern world live events or musical concerts cannot be imagined without augmented reality elements. Film-, video-making industry uses this instrument too, aim to impress. Augmented reality marketing allows any brand to build a strong connection with the consumer, through closer and more impressive contact.
Technical issue for augmented reality product engineering in Kyiv, PNN Soft
PNN Soft is a leading-augmented reality app development company. Our specialists are sufficiently experienced in advanced AR/VR technologies and realize realistic 3D models, high-resolution video, and other complicated graphical customized projects. There are highly experienced programmers of augmented reality apps development for Android and iOS in PNN Soft. The main directions we follow, are: AR/VR/MR, Video & Photo in 360°, 3D Modelling, 3D Visualization/3D Virtual Tours, Computer Vision, Motion Graphics, and VFX.
As to the 2019 report by Perkins Coie LPP, the widespread platforms for augmented reality development include Google ARCore, Oculus Rift, HTC Vive, PlayStation VR, Samsung Gear VR, Google Cardboard, Oculus Go, Apple ARKit and others.
PNN Soft programmers provide augmented reality app development solutions and use up-to-date effective software development kits & technologies, as follows
ARKit
ARCore
Vuforia
OpenCV
Unity 3D
Unreal Engine
IOS (also on iPhone X)
Android
In conclusion – benefits of AR services for business promotion
ISACA claims that among U.S. consumers, the top four benefits of AR at work are better collaboration (72%), increased efficiency (69%), new business models/offerings (68%), and better marketing (61%). Though initially, this technology has been spread thanks to the gaming industry, now AR development services for businesses are provided by most large and medium-sized IT companies.
To summarize everything above, there is a list of AR benefits for businesses.
Total efficiency
The reduced labor intensity of production processes
Preventing production errors
Increase conversions in advertising
Branding and formation of the company's image
Fascinating and interactive contact of the consumer with your brand
Vivid experience
Meeting consumer demand for AR technology in the sales and services industry
Savings in production costs (e.g. on staff training)
Emerging technology for important spheres such as healthcare or education
This is how augmented reality affects your business. At PNN Soft, we provide outsourcing teams of experts that work on your tasks in the field of Augmented Reality Applications Development. The dedicated team of developers leads the project from the very beginning to its release on the market. Give us how we can realize and support your AR project by sending us a request below.