You've probably seen various BI systems' definitions on the Internet. However, some of them aren't entirely accurate. So before diving into exploring BI tools, features, and benefits we want you to read a simple example of how the tech works.
Imagine you sell light fittings and you already have an accounting system for chandeliers and light bulbs, online and offline warehouses. But what if you are eager to open a new branch? Can you utilize the existing warehousе in that case? How many employees will you have to hire? There are lots of questions to account for, and this is just the beginning.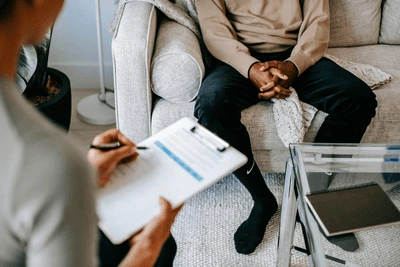 A custom BI solution keeps all your essential information, related to logistics, cash flow, web customer behavior, online transaction maintenance, and marketing campaigns. Put simply, BI systems help you to get essential answers through collecting and analyzing business operations data. Sounds handy, doesn't it? Nowadays, enterprises tend to manage data and content in an integrated approach by bringing BI and Enterprise Content Management together. Also, there is a tendency to focus on Operational and self-service BI. SSBI (self-service BI) allows end-users to work with data without direct IT involvement. That's why self-service solutions are usually easy-to-use and flexible.
Perhaps, your employees will need some training sessions to get on board, that is, analyze business information via corporate portals. Yet learning the ropes won't take long.
You may have wondered, what's the difference between ERP and BIS systems? Well, we've reviewed key differences in the table below.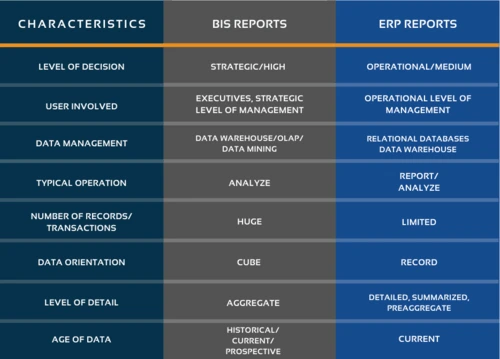 ERP concentrates primarily on transactions and it lacks analytics. BIS, for its part, is based on cutting-edge techs, namely OLAP, data warehouse, data mining, and integrating instruments. These tools collect, store, and retrieve information from various sources. For making strategic and tactical decisions executives need data combination from both ERP and non-ERP sources.
Let's finish this paragraph with inspiring statistics of real-world success to look at BI in action. Thanks to the tech, PepsiCo cut analysis time up to 90%. Marketing agency Tinuiti centralized over 100 data sources by using BI, which prevented customers from spending hundreds of hours of analysis time. And finally, Lenovo improved reporting efficiency by around 95 percent across several departments.
Why do you need IT services for business or the most practical BI benefits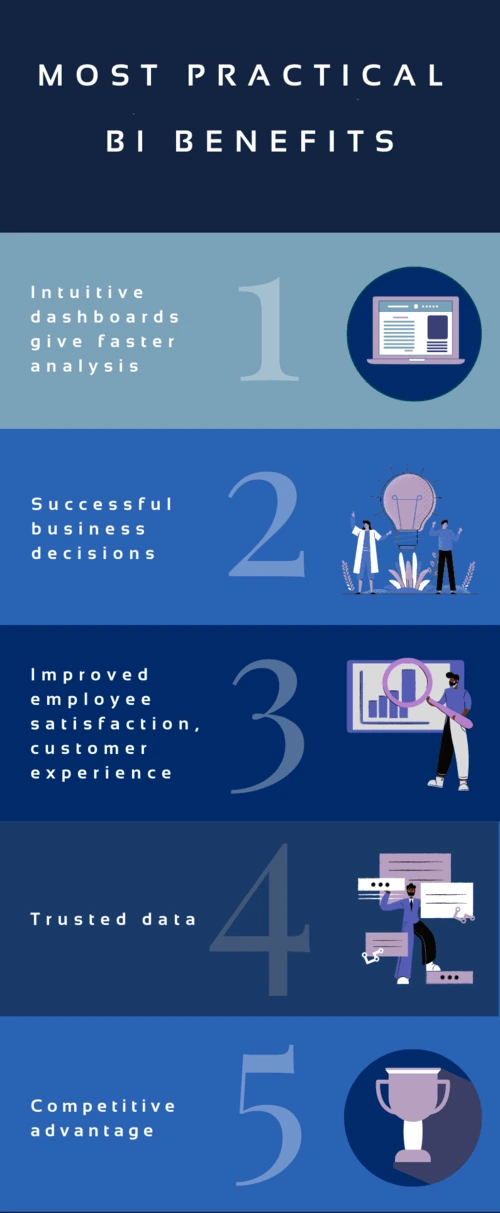 Intuitive dashboards give faster analysis
BI instruments can pull in data from various sources into a warehouse and analyze information according to dashboards, drag-and-drop reports, and customer queries. BI dashboards turn data analysis into a simple effortless process, empowering non-technical staff members to do their best.
Enhanced company's efficiency and successful business decisions
If leaders have a holistic view of all companies' operations, it leads to better dividing the areas of responsibility and improved collaboration among departments. Learning accurate data is a key to moving in the right business direction.
Improved employee satisfaction and customer experience
A convenient BI interface allows workers to operate with diverse data when necessary. But how does it impact customer relations? For example, you may collect information from clients' support chat sessions to improve customer service and decrease the number of support calls.
Trusted data
Traditional data analysis contains various databases, so information is often siloed. While up-to-date BI systems combine internal and external databases. It means that social, historical, and customer information are available in one source.
Competitive advantage
When enterprises can examine market processes and estimate their performance, they know where is the best time to enter and exit the market and which strategy brings more merits. What is more, thanks to BI it is easy to keep up with the industry changes and anticipate clients' needs and behavior.
BIS life-cycle commonly includes six steps.
The first one is Analyzing Business requirements when IT vendors gather your needs and demands and transform all the details into functional and non-functional specifications.
Designing the logical data model goes next and it is aimed to illustrate business entities, connections, and relationships between them.
The third stage is designing the physical data model that defines the data warehouse structure.
Accordingly, building the data warehouse, data marts, and loading data take place on the fourth stage.
The next step involves creating the project, starting with considering schema, hierarchies, facts, and attributes. The relation database keeps all the essential information.
Finally, the life-cycle ends with compiling reports and sharing insights.
Business Intelligence Systems Development: where do you have to start and what's next?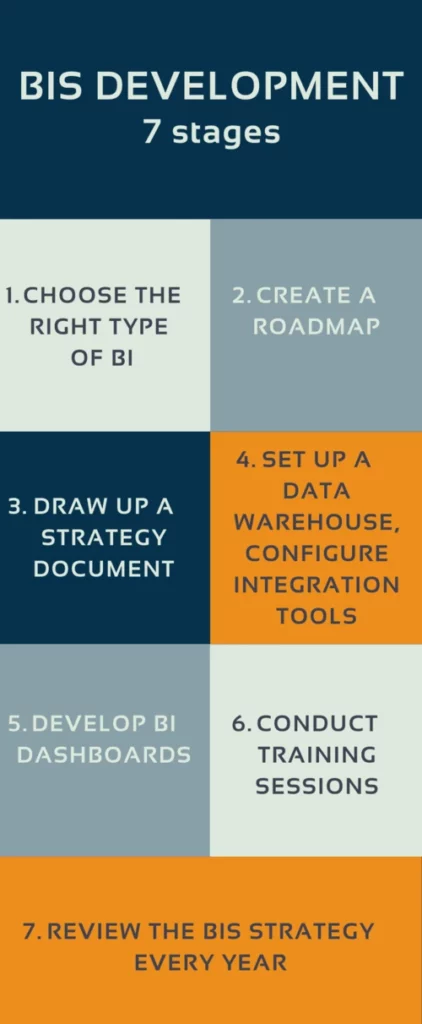 Choose the right type of BI
Custom BI solution is a perfect choice for large-scale enterprises with sensitive data. Another way to start digitalization is to choose the existing pre-built BI instruments. Anyway, we suggest you establish a clear end goal behind implementing the system itself. Depending on your final decision, you may hire a Business Intelligence team or pull your IT experts together. It's crucial to rally an Experienced BI head, BI engineers, and data analysts.
Create a roadmap
A roadmap is a necessity when it comes to demonstrating deliverables during different development stages. So that each team will be aware of the core responsibilities. Don't forget to set realistic time frames for your task and add milestones that illustrate business software development stages. A presentation-like format with graphs, metrics, and timelines makes your roadmap easier to understand and administer.
Draw up a strategy document
What sections do you need to include in your strategy document?
BI strategy alignment with strategy. Describe in detail which benefits BI will bring to the enterprise, what issues the system will solve and how new processes will optimize your employee's work.
Project scope and main requirements. In addition to the roadmap, you should compile BI architecture schema, where you specify interface design, staff members, and budget. Your primary task is to explain the following project stages just after your strategy document is presented.
BIS Development alternatives. If you want to dispel the audience's doubt or underline the merits of your final decisions, share alternative options you've analyzed but chose to avoid. That gives fertile ground for discussions and allows all stakeholders to reach a better understanding of current priorities and possible difficulties.
Assessment tools. You need to give a comprehensive explanation of how you will measure workers' progress. Meanwhile, it would be useful to mention key deliverables in that part.
Executive summary. It is the backbone of your strategy document. As a rule, an executive summary includes your company's vision, current goals, and timeframes.
Additional information. A glossary of terms, charts, and graphs are other tools for describing analytical software for business concepts.
Set up a data warehouse and configure integration tools
Warehouses work as connectors between the dashboards on the front end, ETL-solutions (so-called data integration tools) on the back-end, and data sources. Data Warehouse helps BI tools to keep heterogeneous information from various sources and view data in a comfy dashboard interface. ETL tools can extract, load, and transform your information promptly.
Develop BI dashboards
That's the stage where a team of developers creates a web product, that you've described in your roadmap previously. So your purposes, requirements, and recommendation steer the project course.
Conduct training sessions
When your BI successfully operates, it's time to teach all stakeholders how to use it. Business Intelligence developers can participate in single training sessions where employees will get to know the solution better and understand how their duties can be optimized digitally. If your staff members have different skills and competencies, then you should group them under the levels.
Review the BIS strategy every year
As you can see, BI implementation is not the last stage in our checklist. To determine whether you're moving in the right direction you should analyze qualitative metrics. It's critical for your enterprise to measure progress regularly and realize that your priorities and objectives haven't shifted.
Are you ready for digital transformation?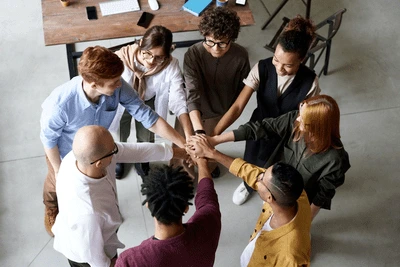 PNN Soft provides clients with high-quality web products. We have delivered more than 1000 stable projects for different industries, including Business Intelligence Systems Development. The company has 20 years of experience in creating highly efficient solutions, but we are continually honing our skills to deliver advanced techs and products. Security is our primary concern when it comes to your digital transformation.
We are determined to seek innovative solutions that meet individual companies' needs. That is why we know what technologies spell success for your business today.
PNN Soft takes full advantage of RAD, Scrum, and Agile methodologies to ensure constant communication with customers and build a flexible development process. Our Agile-teams of professionals include software developers, testers, GUI designers, technical writers, and managers.
If you need IT support for your business, fill in the form below.