If your company is a wholesaler or a manufacturer that sells business to business, then B2B solutions can give your enterprise a new lease of life with high probability. And without a doubt, the multifunctionality of modern web-products makes them the linchpins of all business processes. As B2B platforms typically include a broad set of services, like taking orders, accounting systems, CRM, or ERP services, they can satisfy various clients' needs.
The concept of B2B software is based on four essential tools for serving a company or customer base, such as marketing, sales, accounting, and support software. But what exactly the merits of B2B platforms? In addition to the functionality mentioned above, these solutions allow users to solve complex on-the-go tasks. B2B e-commerce platforms are the key to seizing extensive amounts of data, streamlining the sales processes, and, consequently, client base expansion. That's not all the advantages you should consider.
According to Nuance Research, 2 out of 3 respondents prefer self-servicing instead of seeking someone else's assistance. That is why B2B solutions are also relevant to customers wishing to order goods on their own.
Сontrolling inventory as well as creating a knowledge base through one platform saves your time and reduces the workload. And hence staff members can focus directly on more complex issues, which require a creative approach.
More importantly, nowadays, thanks to up-to-date IT solutions, numerous companies can operate effectively. Moreover, many large companies are fully equipped to work in terms of pandemic.
Please bear in mind that the future patterns of work may vary depending on what functions you choose. Yet another highlight is protecting personal information, which is compulsory for all types of web-products. Both workers and clients have to deeply understand the specifics of PCI security and how it works. The developers' primary goals are to evaluate, examine, and test the software diligently to prevent data leaks.
So, let's take a closer look at the newest options for B2B software, their pros, and cons. We will also dwell on questions you need to ask yourself before the digital transformation.
Does B2B software development scale up my business?
As we have already mentioned, B2B solutions are exceptionally useful for wholesalers, retail companies, and manufacturers because they provide a more technological way of purchasing goods. However, total and abrupt digitalization doesn't have to be your number one goal. First and foremost, your customers and staff members should feel confident while using the platform. So if you want users to quickly get used to new technology, a simple and convenient user interface matters. Then, eventually, B2B platforms will optimize your business processes in the following ways: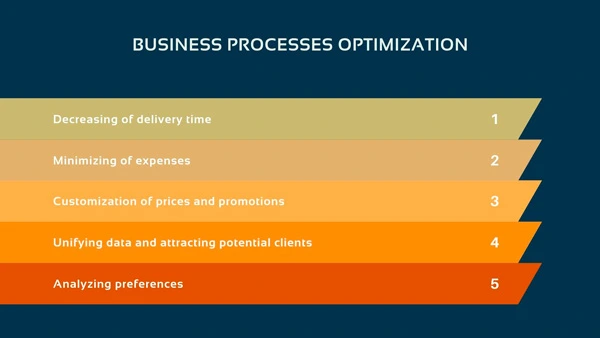 Decreasing of delivery waiting time
In case you often face difficulties in passing and tracking orders, programming services for businesses dealing with shortcomings effectively. The system will pass your clients' orders to the warehouse, and customers will easily track it, staying aware of the order's status at any time.
Minimizing of expenses
Thanks to self-managing by clients, your team doesn't have to create and collect orders. We need to emphasize the crucial role of support service, always willing to assist customers in making orders via the platform.
Customization of both prices and promotions
With B2B solutions' help, you set products' criteria and filter who sees a particular item or price. Another advantage is the calculation of costs, given rebates and freight.
Unifying current data and attracting potential clients
B2B platforms also allow users to keep information on a single platform and turn occasional visitors into customers. Because of your corporate presence, it is easier to build brand recognition day by day.
Analyzing preferences
Google Analytics or other platforms of measuring the advertising ROI empowers your company to accurately estimate inventory turnover, create efficient marketing campaigns, and develop sales strategies.
I want to create a B2B solution. Which should come first?
Have you realized that the platform promotes your company's growth after diving deeper? Then we should definitely touch upon starting steps on how to create an IT solution for business.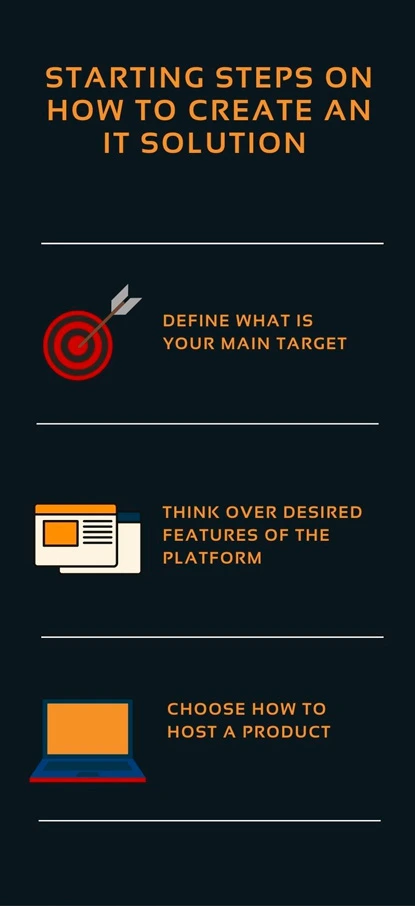 Define what is your main target
Mapping out is an essential thing before an e-commerce journey. For better planning, just ask yourself: What is the primary Achilles heel? Which benefits will your company get? Which departments will be involved in development?
Think over desired features of the platform
It goes without saying that the solution should fit your business needs. The most requested elements of the B2B platform are pricing and customer service catalog, order automation, promotions, and discounts organizing, and alternative payment methods. Yet the company may be interested in additional features and functionality, which should be taken into account. And don't forget that integration with CRM and ERP services is a necessity.
Choose how to host a product
B2B cloud usually works on a subscription basis and provides customers with rapid access any time they need it. This type of solution is relatively cheap. However, in-house platforms offer users another security lever for higher prices. If you select cloud-based development, note in particular practices and protection mechanisms used in the provider's data center.
You may then wonder, what is the difference between cloud computing and software as a services approach. Well, basically, the cloud option сontains services and infrastructure, available to rent, while SaaS offers fully packed end-user apps. Nowadays, software as a service has become a brand-new business model thanks to its greater flexibility. B2B SaaS companies operate on specific verticals for differentiating the services and products from others. The prime examples of such companies are Yahoo and G-mail, the services of which we all utilize regularly. Netflix works as one of the most successful SaaS business models. A corporation is a subscription-based software created for streaming licensed movies and in-house original content online. Accordingly, it is another striking example of a B2C media-service provider. And statistics сonfirm the great demand: Netflix has approximately 182 million paid subscriptions all around the world.
Waiting for more outstanding examples? We cannot fail to mention Amazon Web Services that now holds over 70 applications. As one of the SaaS-based companies, Amazon Web Services covers application integration, analytics, development purposes, cost management, and so on.
High-quality and scalable solutions by PNN Soft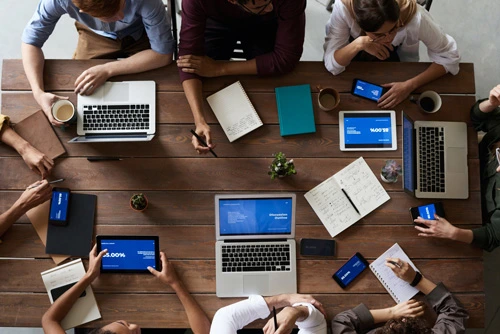 We are a team of tech experts who prefer to work with enthusiasm. PNN Soft is experienced enough to provide our clients with cutting-edge software development. Although our company has been creating corporate solutions for 20 years, we are determined continuously to hone our skills. That is why we know which technologies spell success for your industry.
If you are determined to create a reliable B2B platform, fill in the form below.