Before discussing apps for selling stuff, let's clear up the difference between C2B and C2C business models. Well, both of them are categories of e-commerce, but C2B facilitates selling goods between private individuals and organizations. C2B may also involve providing services to businesses. The notable C2B examples are Google Adsense, UpWork, and Commission Junction. At the same time, C2C ensures the transaction of products or services between private individuals only. You've definitely used C2C platforms like Amazon, eBay, or Craigslist.
In our world, saturated with advanced technologies, it is crucial to choose and launch the right web-product. And precisely because of the diversity of tools, it may sound quite challenging too. We will start by looking at the benefits of e-commerce software to realize how developing a solution impacts your company's performance.
Three core advantages of creating custom web-products:
Custom services tend to be more search engine friendly compared to website templates. It means that if developers optimize the platform, Google can read every page. As a result, custom websites rank better on the search.
Tailor-made websites don't only satisfy your company's needs but also help you include your brand image. In such a way, you can promote your business and attract potential customers as well.
Despite custom development taking longer, it is more beneficial in the long run. As the process of application development starts from scratch, optimizing the platform is so much simpler.
And now, let's move to consider the essential features of C2B and C2C platforms.
What are features critical for C2B and C2C websites in 2020?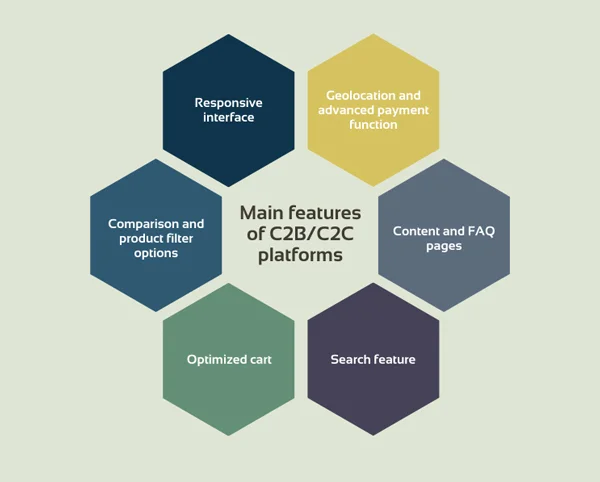 Responsive interface
Nowadays, mobile traffic represents 67% of worldwide e-commerce traffic and is projected to increase to 73% within only two years. For instance, Spotify recorded approximately 66% of mobile sales on last years' Black Friday Cyber Monday. If your customers cannot easily browse and conduct transactions via phones, it's time to contact developers and get a complete mobile upgrade.
Comparison and product filter options
It's hard to believe, but 40% of e-commerce websites still don't have a filters option. Yet sorting products by prices, popularity, or dates is one of the main features when it comes to C2B applications development. If your company offers multiple services or products, the comparison feature is another must-have for your platform. Thanks to it, clients can see the differences between similar products quickly.
Search feature and optimized cart
Statistics claim that it takes 15 seconds for visitors to find the available information on the platform in general. But if the design of our app is complicated, a search function makes users feel more comfortable. Also, you should continuously test and tweak your site's cart to improve its effectiveness. Optimize the shopping cart concerning layout, data showed, or flow, and don't forget to adapt it depending on your client's needs. That's the process, equally important throughout and after e-commerce platform development. Indeed, the purchasing process has to be effortless and well-structured. We suggest you choose between two options:
3-step flow, containing Basket page, Review page, and Thank you page.
2-step cart, including only Basket and Thank you page.
According to recent studies, Americans prefer a quick cart, while German customers opted for a 3-step flow.
Geolocation and advanced payment function
With the help of geolocation, you can personalize the website to your customer's currency and language. That part really matters as visitors are 70% more eager to buy the item if the cart appears in their native language. To take full advantage of IT in sales management, use geolocation with other psychological and demographic data, and improve conversion rates. Providing your customers with several alternative payment methods is a necessity, and analyzing clients' feedback. Various studies claim that 63% of visitors tend to select debit and credit card payments.
Content and FAQ pages
Despite the traditional features like contact number and email, in 2020, your website should contain on-site chat. If your business requires constant interaction with customers, leave a link on your leading social profiles. FAQ pages are mandatory for time and resource-saving. What is more, they can be the primary step of customer training portal development.

Please bear in mind that even the most efficient software cannot operate correctly if your hardware is outdated. So the thing you should do before our checklist is to test current technical resources. It gives you a complete understanding of whether you need to revise and refine them or even create c2b hardware from square one.
Is custom development the only possible solution?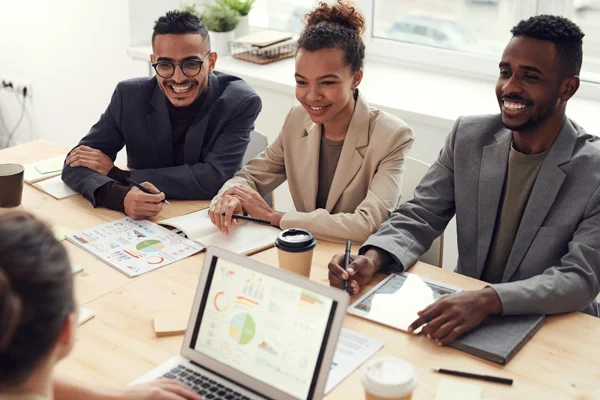 Before answering the question, let's compare C2B and C2C development approaches.
In a nutshell, the development processes of C2B and C2C solutions are quite similar to each other. As for people-to-people trading, social integrations matter even more. Ask developers to connect your website to Google Maps and Facebook so that visitors can find each other promptly. Location-based features play a role, too, as the location is critical for rush orders. Plus, the interface should be simple and understandable for different сustomer types. Another highlight is optimizing the product page. Make sure that all screenshots from sellers have high quality and look suitable from your cell phone and PC. Again, similar to C2B, C2C online platform doesn't have to contain pictures in large format. According to Adobe, around 39% of respondents stop engaging with a web page if the images aren't loading.
Well, we have to mention now that tailored-made development isn't the only solution. If you are not ready for custom development now, you can use template-based or open-source software. The first ones, like BigCommerce and Shopify, appeal to first-time entrepreneurs in the short term. Off-the-shelf services may no longer support your company's scaling when your offering expands. The speed, performance and security level in that situation are lower.
Quite the opposite of template-based websites or marketplace apps for Android and iOS, these services allow clients to edit and distribute web pages without licensing fees and restrictions. But the open-source option has its drawback. Every time people want to utilize more advanced plugins or other extensions, they must pay for that. In case users select a resource-intensive C2C open-source platform, they'll need to purchase more powerful servers in the future.
We've already discussed that mobile apps rank towards the top. So that's why major companies can't wait to add cutting-edge features to their apps. For instance, Nike has recently implemented foot scanning technology to help customers choose the right pair of shoes without leaving the house. It is hard to find a more handy feature in terms of the pandemic, isn't it? As a result, the tech declines rates of returned payments and saves clients money.
But what are general trends in e-commerce platforms? Ubisend research has shown that 48% of visitors prefer to contact companies via live chat, and 38% of clients want to see more businesses using chatbots. So if you're going to create a C2C marketplace platform, add a live chat and bespoke chatbot to your list of functions. That's the key to achieving effective engagement and quality customer support. Dynamic pricing technology is one more example of e-commerce trends. It lies in nailing down the optimal cost for a particular item at any given time frame. In that case, you have to evaluate market demand, competitors' price tag, and your product's perceived value. This information has to be delivered in real-time to make genuinely personalized pricing work. Meanwhile, sales experts predict that more and more brands will launch their products to attract repeat clients with recurring purchases.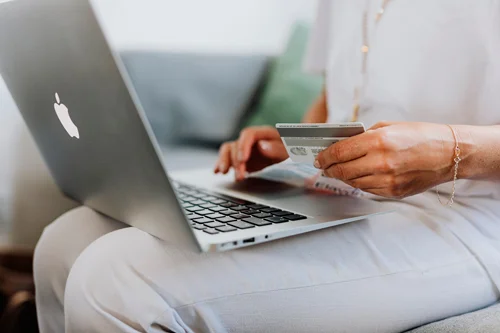 We create the best IT solutions for business
PNN Soft has a team of tech experts who prefer to work with enthusiasm. We are experienced enough to provide our clients with reliable software development. Although our company has been creating corporate solutions for 20 years, we are determined continuously to hone our skills. The PNN Soft team has created more than 1000 efficient and stable web-products for different industries. We are determined to seek innovative solutions that meet individual companies' needs. That is why we know which technologies spell success for your business.
Check out the portfolio for a better understanding of the web-products we create.
And if you are planning to create a C2C or C2B platform, fill the form below.