Thanks to Progressive Web Apps, AliExpress and the Washington Post improved conversion by 82%, and Twitter reduced data consumption by 70%. It's a good enough argument for taking a closer look at the PWAs, isn't it?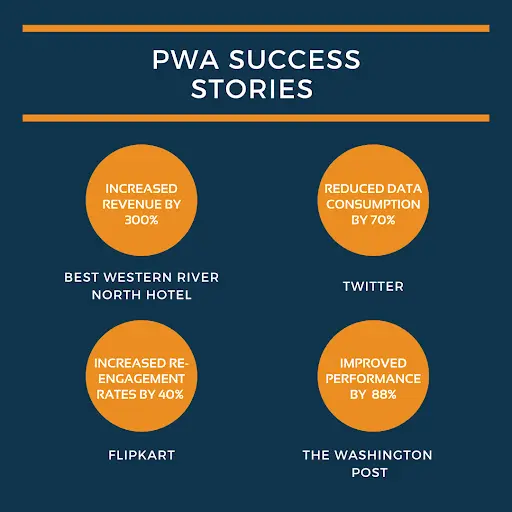 Those kinds of apps allow making a first impression, which matters a lot. And now we're talking about the page-load time: adopting PWA results in a 300% performance improvement. What is more, for optimized sites, this can lead to achieving native apps' loading speed. Another significant benefit lies in obtaining accessibility from all locations. Uber, for instance, demanded a fast ride-hailing app that operates perfectly from any region. That's why the company implemented a PWA.
Finally, PWAs can even surpass native applications sometimes (they reduce web-to-app install drop-offs and address app-install friction). This app feels and looks like a native solution that users download from an App Store or Google Play. When clients visit e-commerce web pages, it automatically loads in their mobile browsers. For a business that has a mobile responsive website, it's crucial to adopt the progressive web app. In this post, we will consider Progressive Web Applications components. We'll also dwell on the business benefits of that digital journey, not limited to higher customer satisfaction, conversion rates, and engagement level.
Three core components of PWAs: what makes the apps special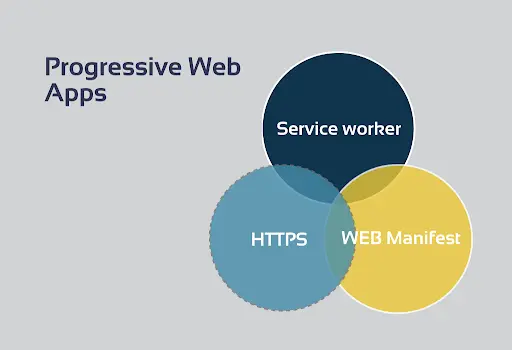 A refresher: PWA is a web app enhanced with several features to function as a native application. It is, therefore, not surprising that Progressive Web Applications have a comprehensive structure that contains various service components. Here's the list of the most significant elements behind the scenes of the solutions:
Service worker
The component is key to downloading and caching various content on a particular device locally. When you use a PWA for the first time, it acts immediately by downloading all the content in the background mode. Since clients have the files cached on their gadgets, the speed of loadings improves up to 50%. Plus, that feature enables an app to send push notifications.
HTTPS
A page can't qualify as PWA without HTTPS: it prevents eavesdropping on the communication between users and the website. Service workers require a secure connection, so all Progressive Web Apps must run under HTTPS.
WEB Manifest
In other words, a file that shares the data about the PWA and tells the browser how to behave while the user installs the app on a mobile device/desktop. Typically, the manifest contains the app name, the URL, and the icons that the application should utilize.
Five Benefits of Progressive Web Applications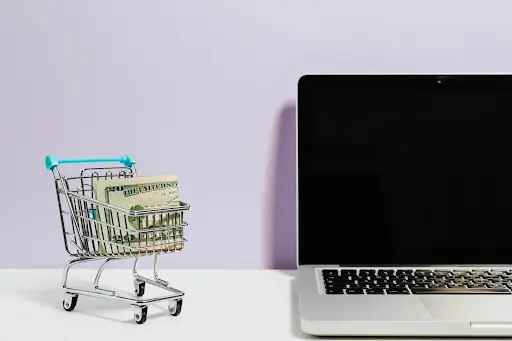 Back to the primary question, PWAs are not just an instrument to address user experience issues and boost conversion. Let's take a closer look at our checklist below:
An effective way to reach new customers
PWA implementation provides businesses with an additional marketing channel: users receive rich push messages on their lock screens. That kind of promotion works efficiently, allowing us to obtain a higher response rate compared to emails.
Seamless and fast checkout
Thanks to PWA technology, you can shorten the way from product selection to checkout. Just adopt a one-tap checkout feature to get rid of the typing card numbers part. And hence, your customers will be free to buy goods on the go. Clients will reward companies that developed PWA with enhanced engagement.
Utilizing an app when you're offline
When you install the PWA application, it loads in your browser automatically. At that point, the app will be working similarly to the native solution. That's how customers will browse the app and view items in offline mode with the same speed.
PWAs are more cost-effective than native apps
First off, Progressive Web Apps don't need coding for different OS, in contrast to native ones. After setting up, businesses have to upgrade custom solutions constantly and improve their compatibility. Thus, the maintenance cost rises. As numerous web browsers, such as Chrome, Safari, Firefox, and Edge, support PWAs, progressive apps are more cost-effective.
Progressive web apps strengthen the SEO
PWAs are an indispensable part of SEO strategies intended to improve rankings. Generally, progressive web apps have better performance metrics, and they are more likely to move companies to the top of search engine result pages.
We develop progressive web apps with an eye for every little detail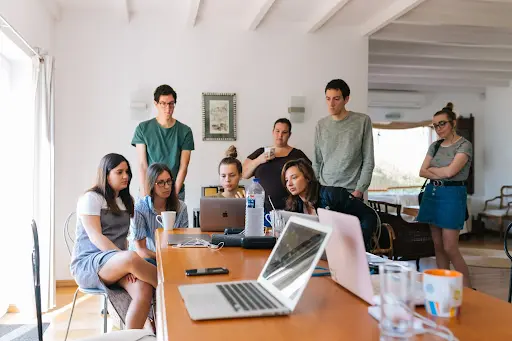 PNN Soft has been delivering programming products for 20 years, and we hone our skills to provide our clients with reliable IT services. We implemented reliable PWAs for the e-commerce and retail sectors. Regardless of the industry segment, we aim to pay special attention to systems security and IT support.
We focus on getting an in-depth understanding of an individual company's goals, requirements, and suggestions. That is why our clients prefer long-term cooperation.

PNN Soft implements Agile, Scrum, and RAD methodologies to interact with clients effectively, meet customers' expectations, and obtain more flexibility. Our teams of experts include software developers, DevOps and DevSecOps engineers, GUI designers, testers, technical writers, and managers.