Technology trends change rapidly, but information assurance and security will never go out of style. We've prepared for you an overview of tendencies that should be on your radar screen this year.
Security issues can be divided into two categories: "old", such as malware and think phishing scams, and "new" related to the impact of the Covid-19. Meanwhile, the quality assurance trends also focus on risk management and adaptation to the pandemic. QA is one of the primary goals for companies that aim to improve service performance and optimize the product cycle. If you are eager to stay on top of QA management obligations, сonsider key quality assurance trends.
Current Security IT trends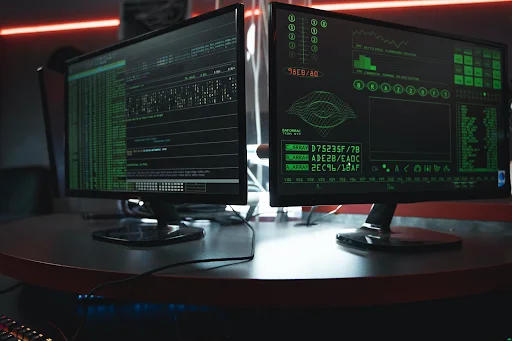 Security architect
The role of security architect is expected to become critical and in-demand because of the multi-cloud and hybrid cloud models' popularity. Needless to say that due to remote working providers will concentrate on securing beyond the perimeter.
Automation and orchestrated systems
Nowadays, enterprises are determined to develop software at quicker speeds. That is why developers tend to divide comprehensive apps into several microservices. Another benefit is that IT teams can combine reusable blocks in different business spheres. Yet assuring the security of microservices continues to be a subject of concern. Automation and DevOps assist companies in securing all speed processes. IT companies will also seek the orchestration and integration of cybersecurity solutions. If all the documents are placed in an orchestrated system, it helps to deal with attack vectors and identify vulnerabilities promptly.
Edge-based authorization and Zero Trust security models
Already widespread phishing and ransomware are still at the top of the common attack methods list. It is anticipated that personal emails and systems attacks will increase rapidly. Since numerous employees use the home network while working remotely, residences of workers will become entry points into corporate portals. So we would say that unpatched or subpar VPNs are the Achilles' heel when it comes to ensuring security. Moreover, edge-based authorization tools and Zero Trust cloud security models will surpass VPNs in the nearest future.
Global pandemic as a mask for phishing and ransomware
Enterprises that keep sensitive information related to vaccination will be a key target of cybercriminals. For instance, on December 3, the IBM Security X-force declared that the company had exposed a global phishing campaign targeting a COVID-19 vaccination cold chain enterprise. In a nutshell, the "cold chain" is a part of the worldwide supply chain organized for approved vaccine storage and delivery.
Cloud Security resources
If you are working through the cloud, the custom-built security infrastructure is a necessity. Software-based security tools such as AWS Security work on protecting the confidentiality, availability, and integrity of essential data. Using these instruments involves shared responsibility, so the security of the cloud lies on AWS, while clients are responsible for security in the cloud.
Most visible quality assurance trends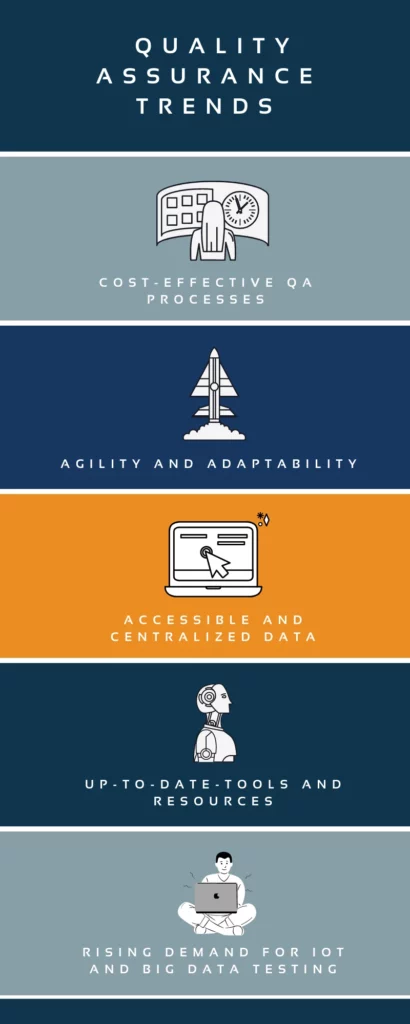 Cost-effective QA processes
A water-tight QA management solution is key to preventing non-conformance. And what is important in the context of the economic downturn, this approach is quite affordable.
Agility and adaptability
Again, the topical strategy is adaptability with a focus on risk analysis. Your main goal is to define the strongest hazards against your QA. It will allow businesses to maintain quality management obligations and app security in uncertain times.
Accessible and centralized data
A QA management system with cloud-based centralized data will be useful for audits and ensuring compliance with requirements. A lack of data, for its part, often becomes a sure recipe for knowledge gaps and miscommunication.
Up-to-date-tools and resources
Selecting efficient techs, namely Artificial Intelligence and Machine learning leads to automation, a tighter QMS, quicker corrections, and a chance to cooperate with other IT departments. It is also critical to choose resources that enable businesses to meet all the QA standards.
Rising Demand for IoT and Big Data Testing
The Internet of Things will accept the 5G standard soon. It's hard to count possible combinations for testing between new gadgets, protocols, and platforms. Naturally, varied data volume generation creates a demand for big data testing that enhances market strategizing and targeting.
We provide our clients with security and assurance services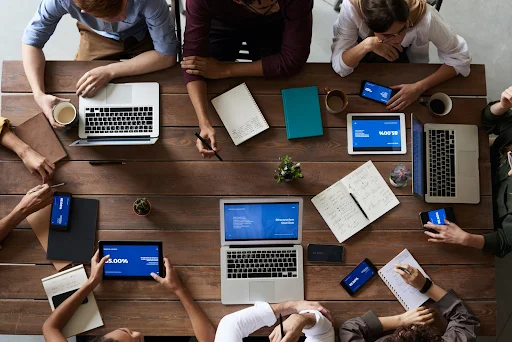 PNN Soft IT security assurance service assists clients in determining the compliance level of the technical security. The company has 20 years of experience in creating highly efficient solutions, but we are continually honing our skills to deliver advanced techs and products.
PNN Soft takes full advantage of RAD, Scrum, and Agile methodologies to ensure constant communication with customers and build a flexible development process.
If you are searching for a reliable IT security and assurance service, fill in the form below.