B2B services or Business to Business is a construction for the modern world of trade. This definition covers a wide field of commercial, information, and economic interaction on the market, without the participation of the end consumer. Tremendous marketing relations must be easily controlled for better organization and functionality. A vast number of market participants and commodity units, both material and abstract, have caused the B2B process to require digitization. Suppliers, wholesalers, vendors, and busy business owners come across a need to arrange and systematize the B2B sales portal, G2B, B2B CRM, B2C, and B2G relations with better quality and lower power inputs. Thereby the development of portals, applications, and websites for the coordination of the process of business-to-business has become the key to the success of the formation of market relations.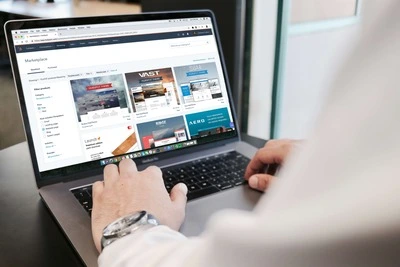 What are the benefits of portal development for the business environment?
With the rapid and dynamic changes in the business environment, more and more companies are nowadays selling to other trading partners, as it is the best solution to sell enough. Any enterprise can't sell huge value of products direct to one customer, that is why B2B software development comes as the decision.
B2B portal software is a complex of services, develops and applications by using which a company could get profit and systematize selling processes. The availability of a B2B portal has a direct and indirect impact on the financial growth of the company. Before ordering the development of a web portal for the sale of products, you need to find out about B2B portal benefits.
B2B participants are password protected.
Sellers can visualize the enterprise product in the catalogue.
You can sell both to smaller trading partners and those higher in the supply chain.
A properly configured B2B web portal eliminates the need to manually enter each unit of production into the system.
It is easy to connect with new trading partners and simply familiarize them with the products and services provided. A good example is a B2B portal for travel agents. Tourism operators, agents, hospitality, and transportation workers can very easily interact on the portal and ultimately provide a quality service to the consumer.
B2B integration support for the convenient approach. For instance, business-to-business portals maintain the corresponding documents that automatically get entered into your system. Besides, the trading partners are able to do quick orders, and the suppliers can get it by e-mail. So that suppliers haven't need manual and step-by-step order processing.
The portal allows trading partners to order however they prefer and use any payment system they used to.
In addition, the web portal as a sales channel is also automated to update products. Wholesale B2B dropshipping is another advantageous feature of the portal, allowing transactions to be made 24/7.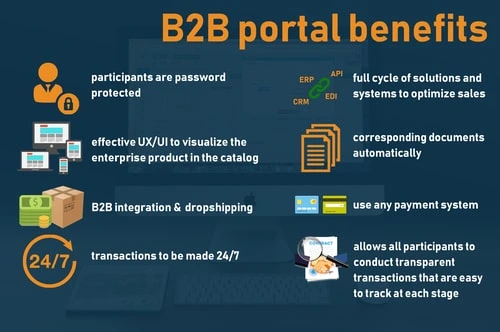 Why do B2B IT services gain their popularity?
In general, B2B website development is an effective solution which allows all participants to conduct transparent transactions that are easy to track at each stage.
Reduction of the order cycle, the ability to create a unique offer and control of invoices and contracts – all these are the main advantages of the business-to-business system.
All mentioned advantages and even more functions can be enforced with the help of B2B IT Services, which in its turn are in demand. Business-to-business websites have the complex structure of management as a platform for the interaction of hundreds of individuals and the implementation of a minimum number of operations.
Deeper into the wilds – B2B customer portal
B2B CRM, where CRM refers to the strategy, process, or technology solution. Actually, this acronym means Business to Business Customer Relationship Management. This specific link-up includes three participants, for instance, wholesalers, distributors, and those who are lower in the supply chain. Its central purpose is to understand customers' needs. B2B CRM is a reliable approach to business. Well, B2B web portal development and CRM solution are used to collect and store information about each contact with the customer.
PNN Soft an extensive experience in the building of corporate systems development services for business process automation and monitoring. The best B2B CRM solutions help to improve relationships between customers and a company. B2B services and provides superior facilities to its customers.
Custom portal development solution gives an opportunity to analyze customer touchpoints such as websites, e-mail, online chats, etc. What is more, suppliers using the system can view data on quotes, sales, requests, or report problems. Information is stored in a centralized database, usually in the cloud. PNN Soft created the CRM System to Manage Customers' Requests, Debts, Complaints, and Documents at the Trading Company.
ERP software is the solution for B2B portal r-commerce development
B2B eCommerce sales are expected to outgrow B2C eCommerce sales by 2020. B2B eCommerce solution should be part of the whole platform. Thus, transactions and sales will be aimed at high-quality customer service. Trading partners require key business documents, custom payment, terms and flexible payment methods, ACH, card on file, and invoicing. The range of these specifications the eCommerce development is provided by the ERP system and API communication protocol.
Custom ERP software development helps to implement the major purpose of automation and the calculation and accounting of the orders, reducing the operating costs of the entire order processing cycle.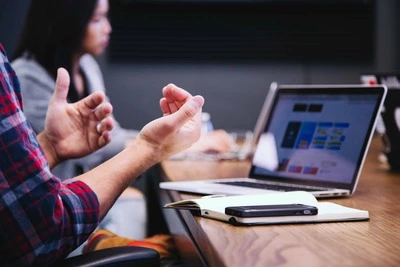 CRM, ERP, and API Protocol are not the only links to a high-performance business-to-business system. When creating a portal, it is important to consider who the owner is: 1) a buyer or a group of buyers, 2) a supplier or a group of suppliers, 3) an independent party who is not entirely involved in the transaction process. B2B online ordering portal also should:
be a user-friendly buyer experience. It is interesting to note that small trading partners prefer the quick order function, while larger ones do it manually;
support Electronic Data Interchange (EDI) – the computer-to-computer exchange of business documents in a standard electronic format between business partners;
Have access to past order history;
have a customer-specific product, pricing & promotions;
multi-currency and flexible payment methods support;
inventory data. Top B2B portals give your buyers inventory levels of your products, including the option for in or out-of-stock notifications and "available-to-ship" dates;
have the possibility of step-by-step tracking of the transaction/order.
B2B design and development in the UK, London – PNN Soft experience
PNN Soft, as a B2B development company, has extensive knowledge of business-to-business services and provides superior facilities to its customers. With a strong 15 years of experience in B2B web development, we realized dozens of projects of such nature. The programmers successfully solve challenges of unstable business environments or infuriating UI and UX and qualitatively implement modern solutions, technologies, and functions (ERP/CRM / API/EDI) in the B2B portal.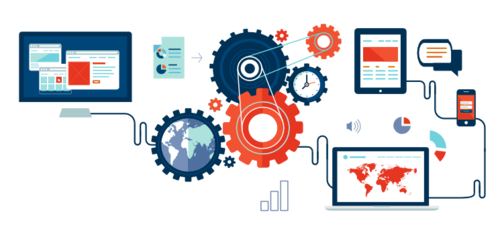 PNN Soft, as a B2B Services Company, applied business-to-business projects for international companies in different fields. Over the years, we have created our strategy and experienced many practices that today allow us to provide quality services.
Our CRM & ERP technological expertise includes:
Technologies – C# (.NET), LINQ, Java (Java EE), C++, ASP.NET, JavaScript, SQL.
Industries – Banking, Telecommunications, Power Supply, Retail, Media, Advertisement, E-commerce, Education, Real Estate, Travel & Tourism, etc.
Solutions – Custom CRM development, Custom ERP development, Business process automation, and more.
We offer complex B2B development services and solutions that help our clients to get a profit, remain competitive, decrease overall costs, and foster growth. Our specialists develop reliable web solutions, desktop applications, and mobile apps for different businesses of any size and complexity.
B2B portal development services include front end, back end development, creation of effective UX/UI design, and subsequent support. Website development cost is calculated individually, as it carries a lot of variables.
To learn more about the conditions of implementation of the B2B web portal and hire a dedicated team of developers, you can fill out the form below.