Reliable software for the banking industry is an urgent necessity concerning online-transactions, managing funds, and ensuring high-quality interaction with clients. Yet this list of advantages remains incomplete without other features. Up-to-date solutions also help business, retail, investment, or corporate banks to comply with the industry regulations, attract potential customers, monitor cash flows, and track clients' satisfaction. To accomplish these goals vendors provide integrations with accounting and human resources. If your company needs advanced financial analytics, BI tools and data management solutions are indispensable.
So what set of functions is a must for a banking solution? It is time to consider this question in more detail. Base programming solutions enable businesses:
ensure privacy regulations and security compliance
work with accounts online through the desktop and mobile apps
trace clients' credit scores and financial history
make financial and tax reports
manage cash in different currencies
Statistics by Accenture claim that around 20% of customers are exclusively digital clients. And this number is expected to grow rapidly. Nowadays, the financial sector is to enhance digital banking and go mobile. Despite touching the customer side, the democratization of financial services gives entrepreneurs a chance to launch online banking without significant IT resources. Another tendency is moving to the cloud. It allows scaling systems as the business prospers.
IT services for the banking sector: core features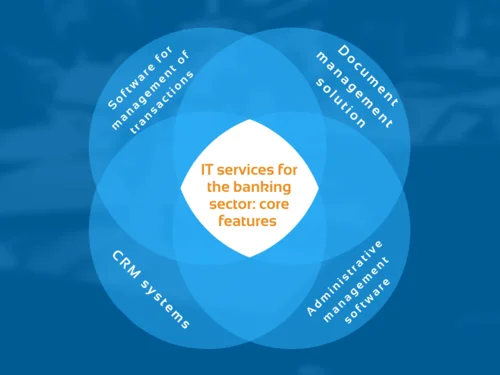 Speaking about main development directions, we should mention these ones:
software for management of transactions and financial operations
document management solution
customer service system
administrative management software
Software for management of transactions and financial operations
This kind of solution allows businesses to coordinate different departments' work. Solution for financial management usually includes management accounting, planning, and budgeting tools. It's hard to imagine software for banking without a balanced scorecard system and transfer management of financial resources.
Document management solution
If you need to achieve holistic automation of the banking processes, develop a service for document management. First of all, this part of banking software allows decreasing the time spent on paperwork. As a result, you can accelerate decision-making and perform more complex tasks. The document management system also enhances the security of online banking apps by pinging file's locations during each stage of the life cycle.
CRM systems
A reliable CRM system helps enterprises to effectively communicate with customers from the attraction phase to after-sales service. The solutions have two primary objectives: ascertaining clients' intentions and building individual strategies for different customer types. So you may set individual sales or services taking into account the personal preferences of the target audience.
Administrative management software
In other words, you get a digital financial calendar with weekdays and weekends list. All dates can be divided into three categories:
off-days or weekends;
closed days or days in which you can't conduct financial transactions;
open days, when it's possible to perform financial operations offline or via solutions for online banking.
Top 5 benefits of centralized banking systems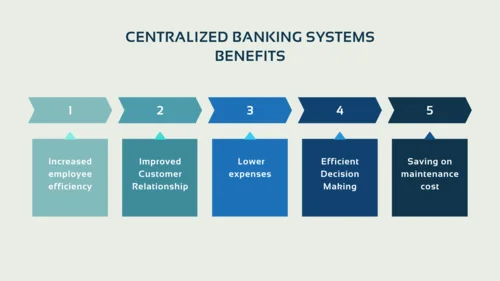 Increased employee efficiency
It is needless to say that automating multiple financial processes leads to raising employee efficiency. As a result, workers have more time for creating a wide range of new products and acquiring potential clients. Meanwhile, the system allows your company to avoid human errors.
Enhanced Customer Relationship
First and foremost, the core banking system notifies enterprises about any customer query, which is critical for resolving pressing issues. Also, clients are free to perform any financial operations online. Availing the banking services at any time is key to increasing customers' satisfaction.
Lower expenses
If your goal is to reduce operational and support costs, adopting information technologies in the banking sector is what you need. With the era of the internet and mobile banks, there's no need to visit financial institutions. Therefore, banks can save on operational and infrastructural costs.
Efficient Decision Making
Thanks to automation, managing significant data turns into an easy and straightforward task. A centralized database gives financial companies rapid access to analytics. Besides, core banking solutions include BI tools, so you may use data while making important decisions.
Saving on maintenance cost
With the help of core banking solutions, clients can improve the backend system's performance and decrease the cost of maintaining a legacy system. Also, CBS has a strong security level, so it's hard to overestimate the role of IT in banking. Any loss of data may result in a huge penalty. And thus, security is a top priority for the financial sector.
Core banking is constantly developing. The newest techs have made banking products smarter and more convenient, and we can expect superior growth in this sector. Nowadays, few transactions at financial companies are possible without a robust infrastructure base. According to the statistics, 76% of executives consider customer satisfaction their #1 value driver. To deliver a perfect digital experience, enterprises tend to conduct in-depth business analysis. If you are determined to monitor all aspects of the company's financial health, outsource a custom software product. When creating a solution for you, we adjust features and tools to your business vertical.
Software for banking by PNN Soft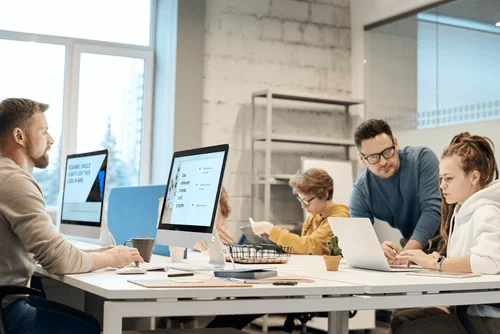 PNN Soft created several reliable solutions for the banking sector. We have been delivered programming products for 20 years, and we hone skills to put our ideas into the newest solutions and services. In this process, special attention is paid to security and IT support both during and after development.
We are focused on achieving an in-depth understanding of individual companies' features and needs. That is why our clients prefer a long-term cooperation.
PNN Soft gives priority to Agile, Scrum, and RAD methodologies to interact with clients effectively, satisfy customers' needs and obtain more flexibility. Our Agile-teams of experts include software developers, GUI designers, testers, technical writers, and managers.
If you are thinking about software development for banking, fill in the form below.