Now more than ever before, kids are actively engaged in Internet content. However, it goes hand in hand with online threats, such as cyberbullying, posting private data, falling for scams, and fishing. That forced parents to seek solutions for the best internet protection.
Statistic claims that 70% of children have seen violent or sexual content on the Internet while doing homework research. Meanwhile, 65% of 8-14 year-olds have been drawn into cyberbullying. And according to children, the most frequent online risks include contact from strangers, downloading a virus, seeing inappropriate content. If your kid has faced at least one of these problems, you should learn more about parental control solutions.
In this article, we will dwell on the parental control app's main benefits. Now we will start by considering the necessary features that make an excellent parental control application.
Four essential features of apps for child care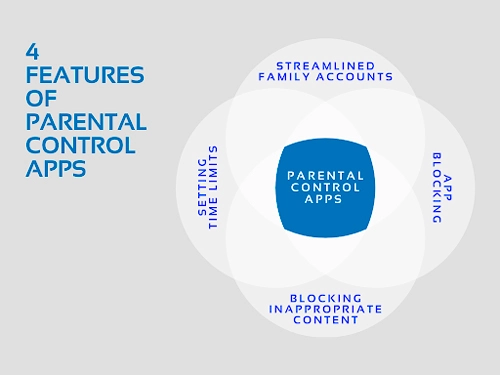 Instead of arguing about when it's time to stop surfing on web sites, you may set particular time frames. For instance, the app doesn't let your child search on the Internet during meal times or bedtimes. In that case, the app goes off at the right time and blocks your kid from keeping up using gadgets. Plus, you may adjust the total time your kid can spend on the cellphone or laptop, minimizing it to several hours a day.
Streamlined family accounts
As a rule, kids have a couple of devices, for example, a tablet and a smartphone. Building a parental control app is incomplete without streamlined family accounts, especially if you have multiple children. That type of accounts assists parents in monitoring websites and managing kids' screen time promptly. Streamlined login records easily memorize ten or more passwords and usernames.
Another highlight is blocking potentially dangerous apps or services your kid may get into trouble with, like selling ones. It's also crucial to lock apps temporarily if you need it. Let's imagine your children utilize social networks in class during school hours. It's no wonder that they can hardly focus on work anymore. So blocking social apps and mobile games is a key to improving efficiency while studying. At the same time, educational web products are fully operational from all devices. The apps are easily accessible, practical, and user-friendly.
Blocking inappropriate content
A complex parental control app for Android and iOS can filter your kids' Internet activity in real-time. By utilizing parental control, you may block websites that are unsuitable for your child. The feature also allows you to block access to unacceptable content, namely violence-related pictures and videos and pornography files. In addition, you may block certain categories of platforms.
The benefits of parental control app development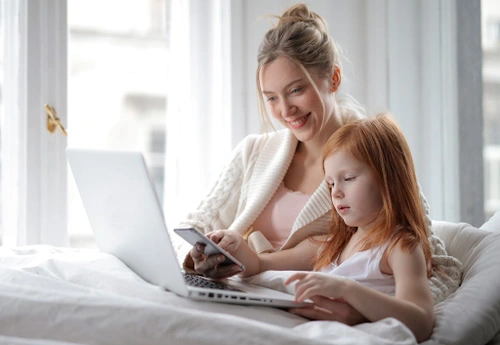 We've already mentioned some of these advantages in the previous paragraph. But that's far cry from a complete list. Why don't we explore the key benefits of parental control apps in more detail?
Statistics bear out that children tend to become victims of cyberbullying while using social media. A set of functions, including monitoring of messages and viewing social media activity save kids from such threats.
Building a strong rapport
Parental control apps help you to feel closer to your children. First of all, it's a great chance for parents to understand what platforms their kids are interested in. Secondly, parental control apps for iOS and Android encourage parents and children to set guidelines and rules for Internet safety. Creating collaboration with your kids is a huge part of building trusting relationships and enhancing computer literacy.
Getting parental satisfaction
When you realize that your kid doesn't have access to questionable content, it saves your nerves. Content filtering and setting alerts are key to regaining peace of mind. And on the other hand, children can take full advantage of handheld gadgets for study and fun.
Managing time effectively
Well, not only adults feel a lack of work-life balance nowadays. Sometimes children and teens go to extremes. They spend hours, trying to finish their home task or just wasting their time on fun apps. Numerous apps with time management features turn homework routine into a fascinating game. In that way, children get motivated to complete tasks and spend more family time.
We are a team of experienced mobile developers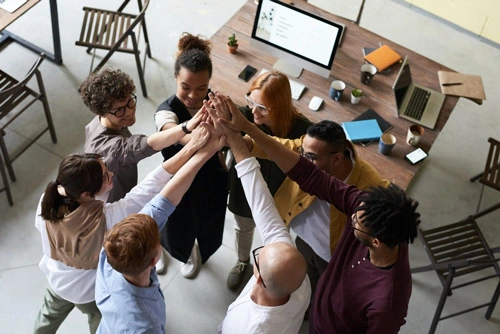 PNN Soft delivers the best software development outsourcing services. The company has 20 years' experience in creating highly efficient solutions, but we are continually honing our skills to deliver advanced technologies. We have developed more than 1000 efficient and stable web-products for different industries, including mobile and desktop applications. Security is our primary concern when it comes to digital transformation.
We are determined to seek innovative solutions that meet individual clients' needs.
PNN Soft takes full advantage of Scrum and Agile methodologies to ensure constant communication with customers and build a flexible manufacturing process. Our Agile-teams of professionals include software developers, testers, GUI designers, technical writers, and managers.
If you want to develop a parental control app for iPhone or Android, just fill in the form below.