Digital transformation isn't just a buzzword anymore, especially for companies striving to keep up to date. It's no wonder that meeting the market changes goes hand in hand with cutting-edge technologies. Digitalization has always brought enterprises long-term merits, like enhanced security, lower prices, and increased productivity. In addition, the transformation has become exceptionally relevant nowadays because of the pandemic.
And statistics bear that out. According to data, even though 52% of businesses will defer or cut investments because of COVID-19, just 9% of them are planning to reduce investments in digital transformation. Since the beginning of the pandemic 50,2% of companies have adopted new corporate solutions for products or services delivering. Another 38,8% of enterprises have invested in new area technology, such as virtual reality, artificial intelligence, and augmented reality.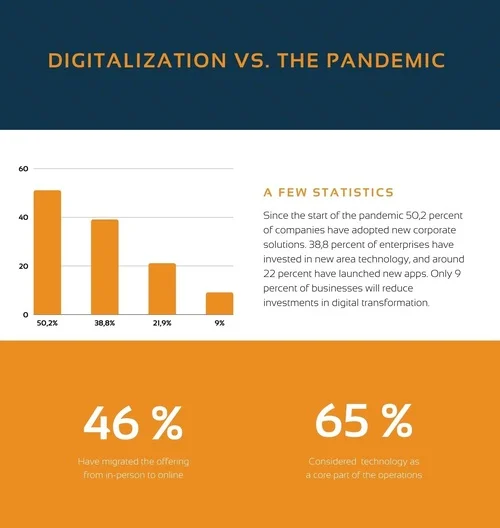 So what makes digitalization a critical tool to utilize? How to prevent failure and build business resilience? Let's dwell on these two questions in the article.
Three core benefits of business digitalization
Well, first of all, with the help of IT solutions, you can improve efficiency and productivity. Digitalization assists workers in constant collaboration, which is particularly essential when it comes to developing creative capacities. And if you feel like interacting with clients is your company's current Achilles heel, the system will allow you to build a client-focused business strategy. In this particular case, a front-office application directly related to customers will be an excellent choice. A back-office app, for its turn, is handy for those who want to optimize internal operations, such as inventory control, resource planning, and manufacturing. All right, now you know the difference between Front-office and back-office systems development (BPM, ESB). Let's take a closer look at the following advantage.
Another highlight to consider is significant time-saving, as all the documents, files, and media are placed on the cloud, available for stakeholders. Consequently, you can make room in the schedule to deal with more complex or pressing issues thanks to business process automation. Plus, it is key to simplifying working processes by clicking a mouse instead of filling and sorting dozens of forms.
Finally and vitally, your data is entirely secure from damage and unauthorized access. You may specify security restrictions for different categories of essential files as well as prevent vulnerability issues.
Five steps of successful transformation
Although digitalization seems to be a daunting task, sometimes, a detailed plan helps to divide transformation into several subtasks, step by step, organizing the project itself.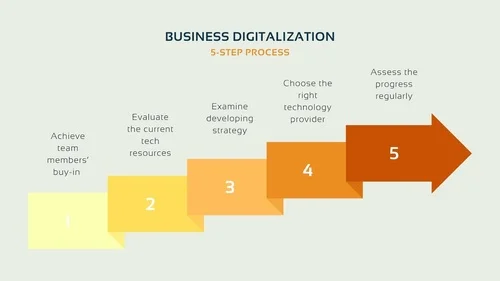 1. Achieve team members' buy-in at all company levels
As digitalization changes the working arrangements, you should involve both executors and employees in the business automation process. The primary step is to redefine team members' areas of responsibility to move collectively towards transformation targets. Each worker gets a complete understanding of the individual role, the enterprise's needs and priority requirements, and the team's vision from the beginning.
2. Evaluate the current tech resources
It's time to assess the coordination between departments and customer relationship management to analyze ongoing strengths and weaknesses. You need to make a sort of inventory, considering available technical tools or defining the need to implement new ones. For instance, customary corporate platforms may be quite obsolete to ensure intelligent workflows. Ask yourself if the data is readily available for examination? Can all team members reach it whenever they need it? Indeed, you have to set priorities and figure out what kind of functionality yields your business's most significant benefits.
3. Pay attention to the details and examine developing strategy
Digital transformation isn't something just about adopting advanced technologies. We would say it's a long-term sustainable improvement, feasible by utilizing IT instruments. That is why we advise you to check the list below before the developing process. Here are the salient points you should think over and the areas of research, in other words:
Market research
Benchmarks
Company's strategy
Automation in business
Performance enhancement
Resource and technology requirements
Expected outcomes and opportunities
IT-budget
Attaining ambitious goals and digital strategy development is inconceivable without setting short-term, mid-term, and long-term sub-targets.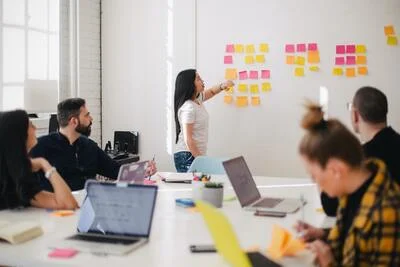 However, before planning itself, make sure that all stakeholders share similar concepts that match the overall vision.
4. Choose the right technology provider
As the name implies, this step includes hiring a dedicated IT company and Chief Information Officer or assigning responsibilities if your company has in-house staff. Select a reliable business partner that perfectly understands the business needs and areas of focus. Instead of sharing the whole budget at once, you should think over the strategic funding to underpin business development.
5. Empower the workers and assess the progress regularly
At that stage, the staff needs to become accustomed to the system's functionality and continuously take full advantage of it. After all, the main objective of digitalization is to increase the efficiency of the company. Making new adjustments, as well as ongoing evaluations, is another thing that cannot be underestimated. Remember to keep the software up to date and stay in line with technologies.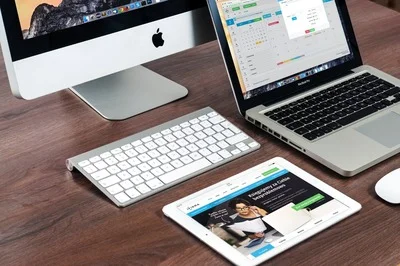 Speaking about digitalization in general, we cannot fail to mention the most effective systems, namely Enterprise Application Integration (EAI), Service Oriented Architecture (SOA), Business-to-Business (B2B), which was developed to meet the challenges and improve the business performance. The platform for interaction, named enterprise service bus (ESB), helps companies coordinate the working process through messaging, data transformation, and web services.
Concerning the economic impact of COVID-19, a pandemic has brought the biggest challenge to the auto business. To be more specific, global sales of vehicles might decrease 20 to 25 percent. However, in the most adversely affected countries, sales could even drop by 45%.
The pandemic has become quite a challenge to the creativity of enterprises. And numerous industries were forced to adapt to the quarantine by changing the business thrust. Restaurants are the prime example of thinking differently, as they have recently focused on the kitchen instead of on the eating area itself. The most apparent business approaches, in this case, are catering, taking-out, eating-out, and delivery. Yet some cafes and restaurants have come up with a more sophisticated solution, offering sets of precooked dishes with additions for cooking at home. The customers receive a link to a short video with a professional guide, so that experiential, entertaining, and learning components perfectly blend.
Despite the risks, a multitude of companies decided to deliver highly sought-after goods. For instance, Unilever has concentrated on producing surface cleaners, personal hygiene items, and packaged food, more than skincare products. And, quite the opposite, many small food businesses got a second chance to fulfill their potential because of the supply chain crisis and empty supermarket shelves.
Development of integrated solutions by PNN Soft
Our team is experienced enough to provide our customers with high load and scalable solutions development. Although PNN Soft has been creating corporate solutions for 20 years, we are determined continuously to hone our skills. That is why we know which technologies spell success for your industry today.

If you are ready to take the initial step for digital transformation in business, fill in the form below.