Сommunication, as well as collaboration, has already become the fundamental value of today's world. Let's try to imagine the field in which qualitative workers' interaction isn't beneficial. Sounds unreal, doesn't it? But when it comes to business, both sharing ideas of the whole team within a company and high-quality interacting with customers are a necessity. Even so, according to data, 86% of polled executives and wage earners consider a lack of collaboration or lousy communication as a primary reason for team failures. And only 52% of marketers tend to change their strategies, depending on customer feedback.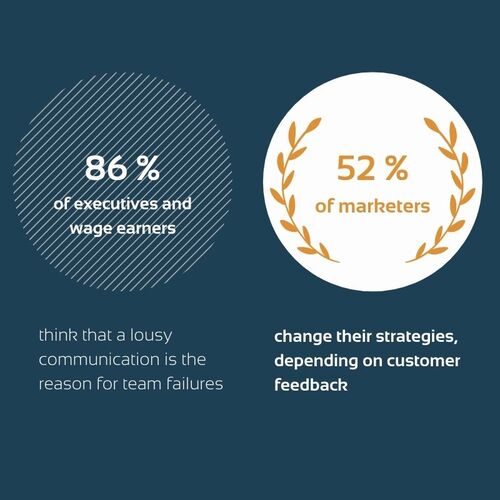 Three robust solutions to profit corporate tasks. How can CMS development companies help you to maximize efficiency?
You have probably heard about web portal development for various companies and enterprises. If no, you can check out more information about web portals and the difference between web portals and websites here: Nowadays, large businesses face a crucial need for organizing a proper work environment and increasing the quality of services. Managing working processes and controlling task performance are other things worth improving. And thanks to the latest tech web portals, created by companies with extensive customer experience, help to obtain these goals. In this article, we will talk about three types of corporate solutions that enhance the quality of communication inside the company itself. We will also consider web portals, aimed to achieve the right level of interaction between the enterprise and its customers.
Despite a multitude of software created commercially, developing portals, which are tailored for individual business needs, helps to unleash the company's potential more fully. In addition, custom software is inclined to be more secure, so you shouldn't worry about external intrusions. And finally, as an executive, you can give useful suggestions about system architecture.
Let's look at all the options to help you realize which one will bring benefits to your enterprise.
The Corporate portal or Intranet portal helps staff communicate diligently to work together on joint projects and automate business processes. This solution can be useful for large enterprises with several departments responsible for accomplishing various sub-tasks. Developing a corporate portal is also beneficial for finance companies with a high level of trade. It contains a vast amount of data so that workers can reach the necessary information promptly. If your company accomplishes repeated tasks on a regular basis, the system will assist you in automating the working routine. This feature is key to lower the risk of human mistakes and free up more time dedicated to complex and creative assignments. Besides, the team of developers will be ready to upgrade the system in case you need it.
As the name suggests, the Customer Relationship Management system provides external communication with regular and potential customers to increase profitability. CRM is in demand among trading, advertising, and marketing companies. It allows businesses to carry out different tasks, starting from automatically sending the newsletters to performing segment marketing. And, again, a considerable amount of information about your customers, located in one central source, helps to stay organized without sticky notes and a multitude of spreadsheets. In addition to it, the system concentrates on both sorting and prioritizing the leads. If you receive lots of inquiries and leads per day, which means a constant interaction between support and sales workers, it's definitely a good matchup.
Human Resource software assists enterprises in selecting and recruiting candidates and high-quality communication with each staff member. As a result, human resources employee doesn't need to enter and copy a necessary data, schedule time-offs, and pay taxes. No matter how many staff the company has, this solution always reduces time-consuming. In addition, it assists in sorting job applications as well as tracking candidates. Speaking about the company's philosophy, HR software can be a useful tool for establishing and clarifying standards, policies, and values.
Talking about blended solutions, you may also integrate the Corporate portal with the CRM system.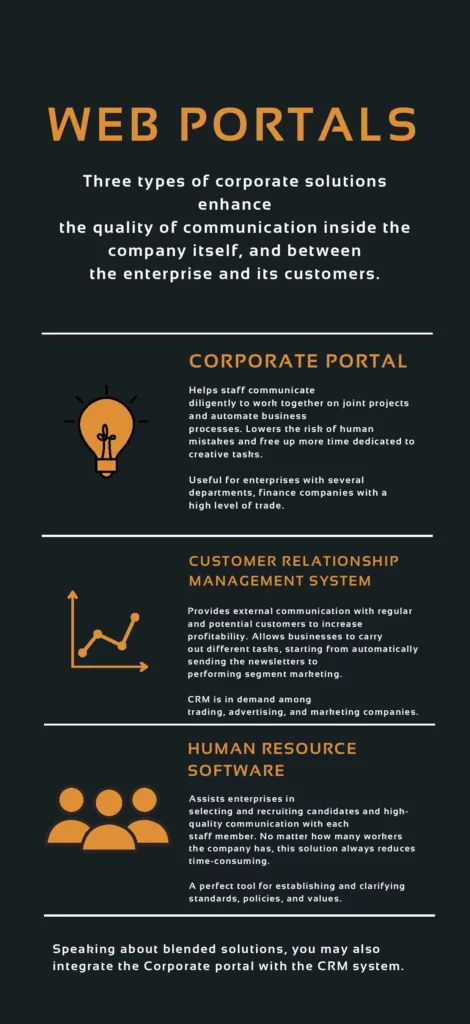 What precisely are the benefits of creating web portals?
A Corporate Portal architecture has one access point, and it is generally web-based. As internal websites, Corporate Portals are aimed to increase the efficiency of teamwork with the help of different tools and resources, such as:
storage of documents, essential files, and media, allowing staff to access a comprehensive information base and compile paperwork in one place.
task lists, so employees are aware of requirements and deadlines, and executives can evaluate workers' performance.
a corporate social network, in which experts from different departments can work together on joint projects.
calendars and online planners for better time management.
As you can see, assisting workers in collaboration isn't the only merit of Corporate Portals. In addition to the corporate social networks сomponent, their functionality gets you a chance to control the task performance.
Customer Relationship Management systems are divided into three internal categories with the range of their advantages:
Operational CRM enables companies to target the audience during the sales funnel, create e-mails campaigns, maintain leads, and attract potential customers as well. This one tends to be the most frequent solution.
Analytical CRM focuses on collecting information about your customers' preferences and behavior patterns. This option appeals if you want to clearly define your audience's problems, improve communication with the audience, or nurture tone of voice.
Collaborative CRM assists in communication between the enterprise and its customers and throughout the company departments. And hence, as an example, you can share customers' feedback with your team to strengthen your clients' satisfaction.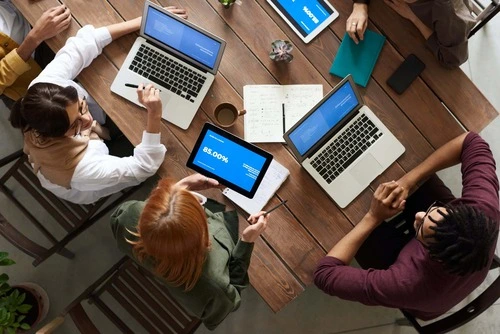 Please bear in mind that it is significant to create a CRM that will be able to work with a great amount of customers' information, while the business develops and prospers. Implementing this solution should be perceived as an ongoing process with long-term benefits, not a one-off event. First of all, it is crucial for the system to quickly select and analyze customers' data when it comes to using metrics on marketing or sales. Other features of the right CRM are easy integration, scalability as well as customization, which allows the solution to satisfy your company's needs. And pay particular attention to CRM's functionality, responsible for adequately supporting working processes.
The breakthrough of software development HR systems originated as early as the 90s, so the idea isn't new. Since that time, numerous platforms have been enhanced and modernized, and inevitably, the prices have been lower slowly. A couple of years ago, creating this kind of solution was still an expensive option, but now the situation changed. Therefore, even small enterprises and companies are able to take full advantage of the platform today. Modern HR systems are packed with different tools, however, a typical one consists of payroll management, recordkeeping, and making time stamps. Yet, these functions often tend to combine for users' convenience.
Unlike basic one, advanced HR software development not only saves your time by compiling tables with workers contacts automatically but also allows you to:
structure all the essential information and illustrate it in a readable way;
help new workers and interns to adapt to сompany's context quickly;
manage the process of training new employees;
measure the efficiency of staff performance;
evaluate the current level of job satisfaction.
You may develop the Human Resources Management System (HRMS) or Human Resources Information System (HRIS), depending on your business needs. Apart from those, creating Human Resources software (HRS), which combines features of both systems mentioned above, is also possible for CMS development companies. The first one (HRMS) holds dynamic data, such as PTO days, questionnaires, learning management functionality, and performance reviews. The cutting-edge Talent Management Component, which includes hiring, training, performance management, and career planning, is also a part of the system. With the help of the talent management software, it is much easier not only to select appropriate candidates but also to hone skills, develop potential, and analyze perspectives.
HRIS is more about Core HR, as it keeps static information, like social security numbers, salary, and addresses. It also concentrates on reporting, self-service, benefits administration, training workers, and electronic documents workflow.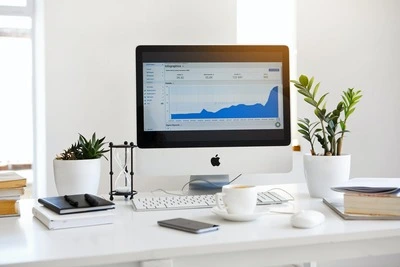 Why can PNN Soft provide you with the best corporate solutions?
Look through our recent projects to find out more about corporate portal development:
Corporate Social Network Based on the content management system, open-source DotNetNuke CMS enables users to share various content, such as files, images, or texts, and communicate via messaging modules. Different types of accounts, from administrators to sales representatives, are available to create for the company's convenience. The solution is also equipped with both analytical and document management systems.
Corporate Front Office Web Portal Based on IBM WebSphere Portal helps to access all the crucial information from electronic archives, credit, and payment systems. This project is developed primarily for improving fault tolerance and supporting business scalability.
Нere you can see examples of our latest custom CRM systems:
CRM System for Managing Customers Requests, Debts, Complaints, Documents at the Trading company has a thin-client interface. The system allows developers, managers, and testers to cooperate effectively via a role-based framework.
CRM Web Application for Customer Support and Contact Management Scenarios contains approximately 30 roles of users. The horizontally scalable system is created for providing customer relations management and support departments with high-quality communication.
Needless to say that developing solutions, which you need the most is a key to solving the pressing problems. However, the more efficient portals you utilize, the more promising your business becomes.