Since the past decade, web products and mobile applications have grown exponentially, so it seems like the end of Custom macOS X Application Development is upon us. In fact, desktop solutions can boast a higher degree of privacy compared to web applications. That's because you have all the essential data stored on your device. And beyond that, desktop applications are still more suitable for factory floors or large warehouses without reliable internet zones. Easy accessibility and stability are crucial when it comes to performing core business tasks daily. Furthermore, numerous workspaces are opting for native apps on their computers because such solutions perfectly suit distinct databases. Finally, desktop development is sought-after in gaming solutions, enabling the complexity of open-world play and advanced graphics.
What else makes desktop apps a pretty good alternative in terms of performance and efficiency? Let's dwell on this question and consider desktop benefits in more detail.
Here are some reasons to develop a desktop solution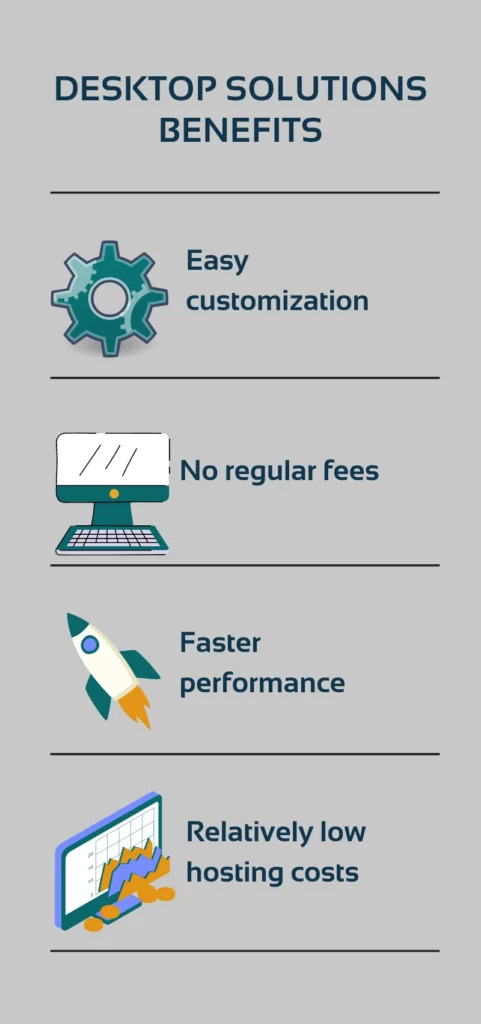 Easy customization
The first benefit lies in desktop-based apps' easy customization, as that kind of solution is tailored to your working environment. Whereas web applications are more about following a one-size-fits-all approach. In addition, you don't need to search for information by sorting through several screens.
No regular fees
Desktop applications are either completely free for users or require a one-time fee. As soon as you purchase the app, it simply works on your device. There's no chance of losing access anymore. In contrast, web apps require annual or monthly fees.
Faster performance
As we've already mentioned, desktop solutions don't rely on Internet connection, running independently on your device. And hence, Windows/macOS X platforms are faster than web applications. So you are free to carry out operations that involve transmitting large amounts of data.
Relatively low hosting costs
Outsourcing custom Windows/macOS X application development requires minimal expenses. All you have to do is to serve pages and then download files to employees. Coming back to web apps hosting costs tend to be much higher.
Yet more advantages worth mentioning:
Desktop solutions interact with the user's computer much better.
Speaking about complex calculations, Desktop apps performance is higher.
It's harder to run custom logic on the customer-side through a web application.
You can take full advantage of multithreading in a more efficient way
Desktop apps are the perfect option if you are eager to start coding or testing the system without adjusting the server infrastructure and worrying about connectivity issues.
Desktop debugging is more powerful.
All stakeholders will get easy access to the camera, card readers, and Bluetooth.
It's been tried and tested for years, so hiring outsourcing desktop development experts shouldn't be that hard.
Even though web and mobile applications have experienced spectacular growth, the desktop applications market is still booming. Nowadays, the popularity of the Python language, Big Data, AI, and kind of C++ renewal give the tech a new lease of life.
Thanks to a high level of safety, a simple customization process, and accessibility from everywhere, desktop solutions are still indispensable for satisfying industries' needs. Desktop apps allow businesses to get a set of advanced functionality as well as complex distributed architectures. And if you would rather not place sensitive data on other customers' servers, think about implementing these solutions.
Another question is what OS will bring more advantages for your enterprise. It's time to weigh the pros and cons.
Apps development for desktop: Windows vs macOS X. The endless battle for digital supremacy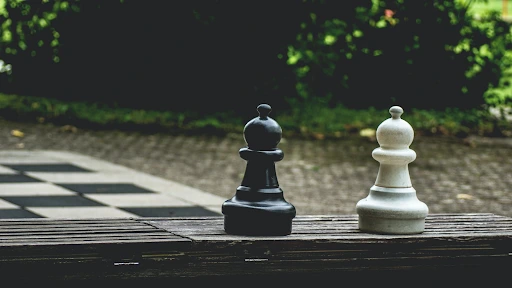 Well, both of them have created comprehensive ecosystems of software and services. Oftentimes, companies are choosing Windows for custom business applications, while macOS X is in great demand in creative fields. At the same time, you can find high-quality business software for Macs, and Windows is known for its photo software and video editing tools.
The "Plug-and-play" feature helps to get used to Macs quickly. This OS tends to be more secure, as the number of malware macOS X programs is still relatively small. Apple's integration of iOS-running mobile devices and computers defeats Windows initiatives for now.
However, the Windows taskbar has more functions, and the app installation is more straightforward. In addition, developers have added a feature that allows controlling the computer with your eyes. It's possible to set up your system by voice, which is critical for blind persons.
If you are in a state of indecision, you can purchase a mix of devices. Generally, Designers who use high-tech software are best matched to Apple computers. Whereas Windows is perfect for performing regular business tasks.
Desktop Application Development Services by PNN Soft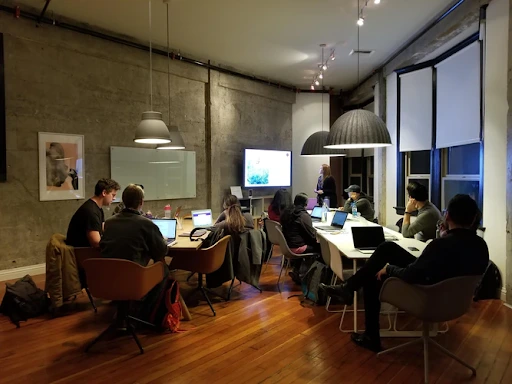 PNN Soft has been delivering programming products for 20 years, and we hone our skills to put our ideas into reliable services. We created a wide variety of complex software for Windows/macOS X. In this process, special attention is paid to security.
We are focused on achieving an in-depth understanding of individual companies' goals and needs. That is why our clients prefer long-term cooperation.
PNN Soft gives priority to Agile, Scrum, and RAD methodologies to communicate with clients effectively, satisfy customers' expectations and obtain more flexibility. Our Agile teams of experts include software developers, GUI designers, testers, technical writers, and managers.
If you are interested in outsourcing desktop applications development for macOS X/Windows, fill in the form below.