Hire a dedicated development team for outsourcing and offshore services
Ukraine has favourable conditions to hire a dedicated development team. Over the last decades, Ukraine has made rapid progress in the IT sector, and now it takes a leading position in several segments of the information technology market. There is a list of IT services that are in-demand and actively developed in Ukraine, as follows: customized outsourcing development, application support and consulting services, and services for dedicated team allocation for the project are widely spread too.
The IT sector of Ukraine, by export volume, takes the leading position, even though leveraging on that fact, it can be challenging to hire top developers. By the way, several Offshore Developers in Ukraine are on the top list of The Global Outsourcing 100 (2018).
IT market is growing extremely in Ukraine, and its value is considered to be $5,7 billion in the nearest 2 years. Without exception, our company is among the leading market participants. PNN Soft capabilities are vast in experience and knowledge too.
Ukraine offshore companies in the information technology events
Ukraine takes part in international IT seminars, exhibitions, and conferences repeatedly. That is a way for hiring dedicated software developers. Furthermore, six technology startups from Ukraine were presented at the annual Las Vegas show "Computer Electronics Show" (CES) on 8-11th January 2019.
PNN Soft company has participated in a variety of IT events during its existence for 15 years. For instance, the recent experience of PNN Soft taking part in the CeBIT exhibition. The operational capabilities of software products and mobile applications were demonstrated, namely, Sports Gear Tracker, Street Racing Speedometer, and inCarDoc.

The reason to hire developers in Ukraine, Kyiv ⁠– is a great IT talent pool
There is no shortage of contenders thanks to the IT schools and universities; approximately 16 000 and more IT specialists are annually graduated in the country. This fact allows Ukraine to be a leader in the IT segment among the countries of Eastern Europe. The IT talent pool is represented by 90 000 developers and testers today.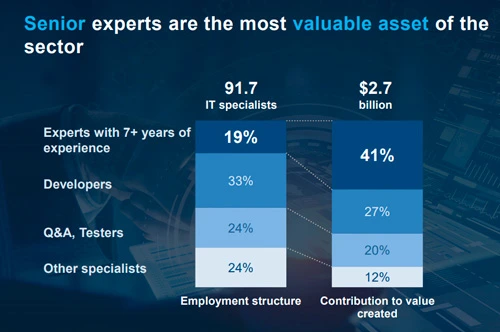 PNN Soft pays attention to co-workers and members of our company. We are experienced in building skilled & qualified development teams. What is more, PNN Soft devotes proper attention to the knowledge of the English language and reinforces employees' skills with special courses.
It should be noted that 80% of IT workers have a sufficient and higher level of English.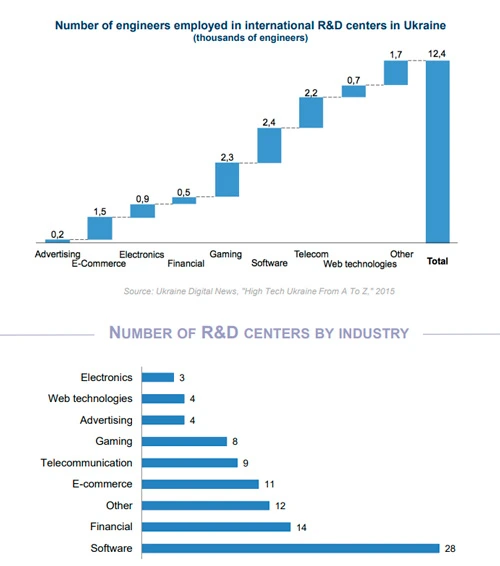 To hire offshore developers in Ukraine, take into account data provided by the IT e-journal called Ukraine-Digital News:
There are more than 1,000 IT companies exist in Ukraine;
100+ international R&D centers are working;
Ukraine has the 1st market volume of outsourcing services in Eastern Europe;
Ukraine is the 1st in the number of IT engineering forces among countries of Central and Eastern Europe;
Ukraine takes the 1st position among the countries of Central and Eastern Europe in terms of IT specialists working in outsourcing conditions;
In 2016, Ukraine entered the top five as a country that graduated students with master's degrees from Universities.
Want to hire a dedicated software development team in Ukraine? The country has a competitive edge in the field of IT specialists. For instance, front-end, .NET, JAVA, QA, iOS/Android, PHP specialists, developers in the gaming field of C/C++, DevOps engineers, etc., are most in demand on the market.
Hire Offshore Developers in Ukraine for Industries Which are in Demand
Currently, there are about 1500 IT companies in Ukraine. That amount doesn't include web studios and small offices. The main IT centres in Ukraine are Kyiv, Lviv, Kharkiv, Dnipro, and Odesa. They represent 160 large IT companies engaged in outsourcing development and packaged SW. These companies already have representative offices in several countries, such as the USA, Canada, Germany, France, Belgium, Israel, etc. In addition to the above, more than 90 R&D centres of large IT companies in Ukraine are located on 4 continents. There are statistics of R&D centres of Ukrainian companies around the world.
Offshore development services grasp different business industries; the most popular are:
Data management and processing;
Telecommunications;
Cloud storage;
E-commerce;
Finance and banking;
Healthcare;
Travelling;
Gaming;
Security;
Logistics;
Education (e-learning).
PNN Soft also has many years of experience in cooperation and project development in all areas above. Hire offshore developers in Ukraine, Kyiv – at PNN Soft is a way to stand out with the final high-quality product. Our company threw a spotlight on the most widely-used projects for outsourcing services, as follows:
Mobile (hybrid and native) applications;
Web development;
Business automation;
Development of projects for commercial organizations;
The solution is multi-tiered and complex engineering problems.
PNN Soft hires highly qualified employees who have considerable experience in similar projects. Besides, PNN Soft lead other projects which less common in the market of IT services in Ukraine, namely:
IoT technologies
R&D
Augmented reality (AR)
Real-time communication (development of web chats and messengers)
Development of e-Commerce services
Development of payment systems (Payment System)
Advantages of hiring a dedicated development team at PNN Soft to implement an IT project
Many companies working on outsourcing conditions provide a separate team of developers for each project. PNN Soft has provided offshore development with a dedicated team of programmers since 2003.
First of all, Ukraine has a low-cost production platform among European countries. Prices are extremely profitable for the customer. If you want to hire a dedicated software development team in Ukraine, the price of outsourcing development depends on the scale and type of the project, the size of the team and services, terms, and technologies. On average, the price for the development of an IT project in Ukraine will be 10 times lower than the price for the same service in the US.
Secondly, Ukraine is situated in the most optimal time zone for many countries. The time difference between Ukraine and Europe is 1 hour, and the difference with Great Britain is 2 hours, and with New York City, it is 6 hours. This is an advantage for business meetings and negotiations.
When You Hire offshore developers in Ukraine, Kyiv ⁠– at PNN Soft, you obtain the following aspects:
Business aspects (a study of the industry and the market, as well as the customer's company and its activities);
Defines key points of the project organizational structure;
Study and analysis of end-user needs and interests;
Technical aspects (formation of technical specifications under the resources and objectives of the customer);
Design and usability building;
Directly product programming and testing;
Preparing the product for market entry;
Further security and technical support of the application.
Also, our employees have comprehensive knowledge of English at Intermediate, Upper-intermediate, and Advanced levels. To hire qualified development teams at PNN Soft, leave a request on our website.
To sum up the information above, we can conclude that we are reliable and profitable partner in the IT industry.
Have any questions? You can ask them to us by filling out the form below.